Caleb's Still Alive & All Is Well On 'PLL'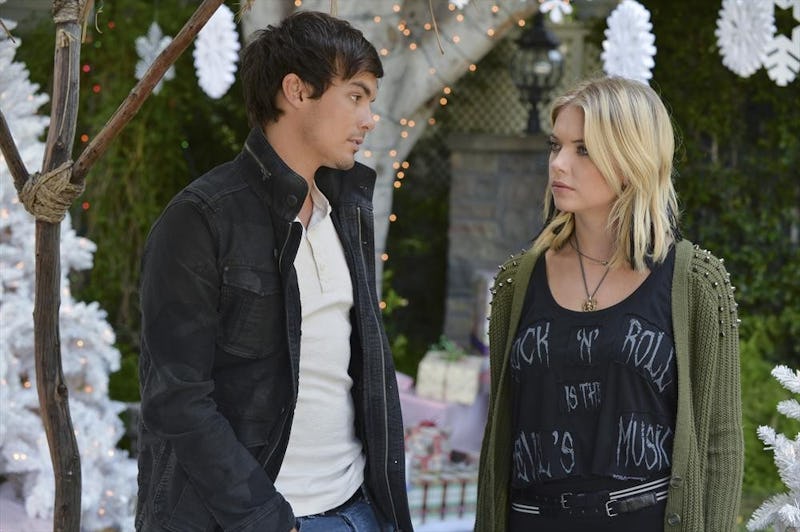 Did anyone else feel themselves breathe a sigh of relief when Caleb walked out of Pretty Little Liars' #FAtalFinale unscathed and with no mention of his Ravenswood drama? Because I did — even if it made me feel a little guilty for taking a moment away from the fact that Mona died on PLL 's summer finale. Such a tragedy, such a great character lost to "A"s raging reign of terror. BUT, on the brighter side of things, us PLL fans don't have to face it alone because we've got Caleb and the rest of the guys (okay, Toby has a broken leg, but he's still alive) all in good shape going into the highly anticipated Pretty Little Liars Christmas episode in December. Talk about feeling #blessed.
Not that I was worried — during such an important finale episode that promised to kill off one main character, I had no fear whatsoever that it'd be Caleb. First, this was a HUGE episode for PLL, they weren't going to waste any time digging into Caleb's Ravenswood drama when they had bigger fish to fry — like this "Ali is 'A'" theory. But, there was always a slight chance, considering the series brought up the Pact Master and introduced the idea that the curse had followed Caleb to Rosewood in last Tuesday's episode, that Caleb would find himself in some sort of trouble.
Bringing Ravenswood to PLL is necessary, I understand. The series was a spin-off passion project that may-or-may-not have ended too soon and Caleb needs resolution. I get that. And I'm thankful that while it was introduced, I. Marlene King kept it far away from Caleb and the #FAtalfinale because PLL is all about "A," it's not all about magic and deals with the devil. Well, "A" is kind of like a devil, but I won't go there right now.
Most importantly and thankfully, Caleb Rivers told death, "Not today," and we can all sleep a little easier tonight knowing that even though Mona is gone, there's still someone on PLL to hack into the Rosewood P.D.'s computer system. All hail the many computer geniuses on this series. Okay, fine, I care more about him and Hanna leaning on each other to get through the hard times. Ugh. They're just so good together.
Image: Eric McCandless/ABC Family