This Is Where It All Began...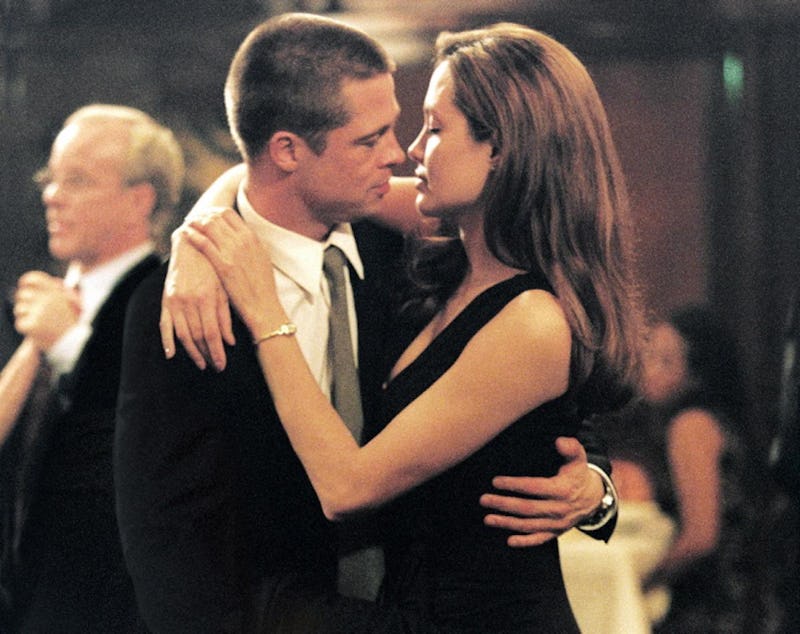 At long last, after years of speculation and false rumors, Brad Pitt and Angelina Jolie got married. After years of dating, a relatively long engagement, and six (six!) children, it happened. Since the ceremony already transpired, and we were not invited (the blasphemy!), we must do what we would do if we were wedding guests at Brad and Angie's wedding: reminisce about how it all began. (This is the part of the wedding when we start getting drunk and crying. IT'S. SO. BEAUTIFUL!)
So, where did this romance begin? With Mr. and Mrs. Smith, the 2005 movie about two married assassins assigned to kill one another. This film marked the beginning of their relationship's journey, as it's evident throughout the movie that these two are dripping with chemistry. There is just so much passion, and it's extremely clear in the scene below, in which the two dance the tango.
It's no coincidence that they're dancing the tango and not, say, The Electric Slide. The tango is the dance floor embodiment of passion (not that the Electric Slide isn't, but still). Let's take that a step further — it's the dance floor equivalent of sex; it's rife with smoky passion, and there's a whole lot of eye-fucking going on. It's a steamy dance, and when two people who are actually oozing lust for one another glide across the floor doing the tango, it's really freakin' hot.
So check it out below, and re-live these first moments between Brad and Angelina. It was evident from the get-go that these two would tie the knot at some point.
Image: 20th Century Fox