These Teens Are More Successful Than You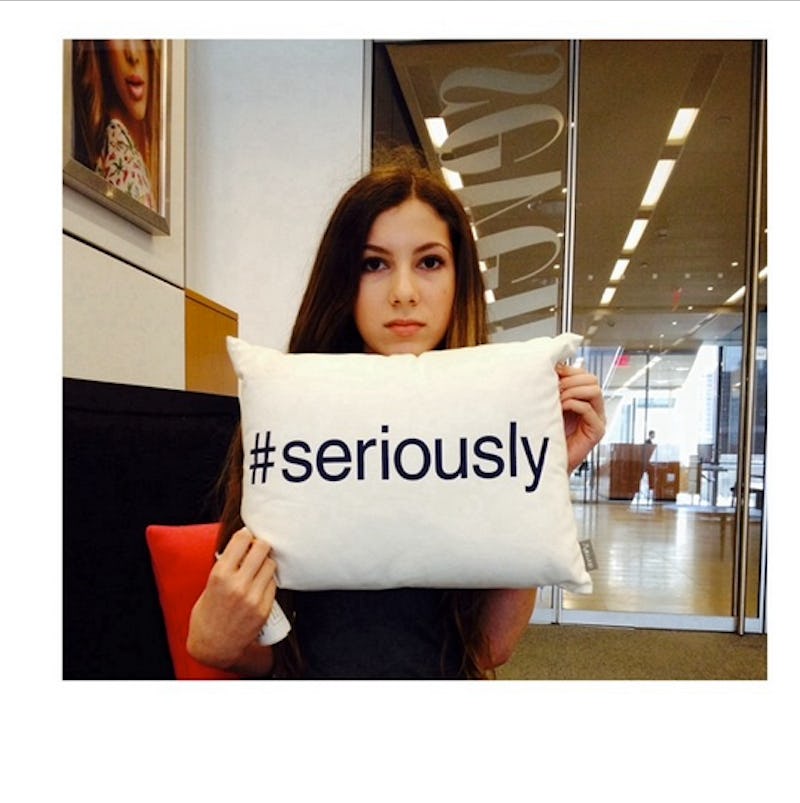 What were you doing at 13? If you said selling a line of adorable clothing you designed at the most successful department store in the country, then your name must also be Isabella. Because that's exactly what the Austin, Texas native is set to do this fall. According to AP, 13-year-old Isabella Rose Taylor will debut her fashion line at Nordstrom stores, in addition to holding her first show at the coveted New York Fashion Week.
Oh, and by the way, Taylor was 12 when this all happened. That's technically a child. But even before that, it all began at the ripe age of 9 when the already successful painter decided to take a sewing class. Taylor wanted to learn how to incorporates fabrics and textiles into her art pieces.
"It just started out as a really fun hobby and it grew into a business over the years. I just really fell in love with it the way I fell in love with art, and I realized that I just had so much fun connecting the two," Taylor told AP.
Along the way, Taylor garnered a lot of young fans who were about the same age as her. This prompted Taylor to show a collection of her pieces at Austin Fashion Week. One thing led to another, and before she knew it, Taylor was teaming up with Nordstrom on making her "street grunge vibe" meets "modern hippie" collection available to the masses.
So, do you feel worthless yet? No, not quite? Let me introduce you to six other young entrepreneurs under the age of 21 who will likely be more successful than you'll ever be.
1. Cory Nieves
Age: 9
Success story: Nieves owns his very own all-natural cookie company called Mr. Cory's Cookies. And in case you couldn't tell, he's also got a fly sense of style.
2. Madison Robinson
Age: 16
Success story: When Madison Robinson was 8 years old, she began designing her own flip flops. With a little help from her dad, Robinson was able to launch FishFlops. By the time she was 15, her flip flop company had over $1 million in sales and was being sold at Nordstrom.
3. Nick D'Aloisio
Age: 18
Success story: At 16, D'Aloiso was a prodigy app developer and created a news-reading app called Summly. A year later, Yahoo bought his company for $30 million.
4. Tavi Gevinson
Age: 18
Success story: I don't need to remind you who Tavi Gevinson is, right? If you need a refresher: Gevinson became an Internet sensation at 11 with her fashion blog StyleRookie, which would evolve into Rookie, the successful teen magazine. Now, an official high school graduate, Gevinson can be considered a writer, magazine editor, actress, and even singer.
5. Moziah Bridges
Age: 12
Success story: Moziah Bridges was determined to bring back the classic bowtie. When he was in the fourth grade (at 9 years old), Bridges started Mo's Bows. Bridges made $10,000 in his first year of sales and now, he's pulling in $90,000 in profits.
6. Emily Matson and Julianne Goldmark
Ages: 18
Success story: When Matson and Goldmark started a hair accessory business in the eighth grade, they had no idea it'd turn into a multi-million dollar company. And now, even though they are both full-time freshmen in college, the two still run their successful business Emi-Jay. They have 25 employees and partnerships with notable brands like Nordstrom and Spanx.
Images: @IsabellaRoseTaylor/Instagram, @mrcorys/Instagram, Fishflops/Facebook, Mo's Bows Memphis/Facebook, EmiJayInc/Facebook