Dina Manzo's Pets are the Real Stars of 'RHONJ'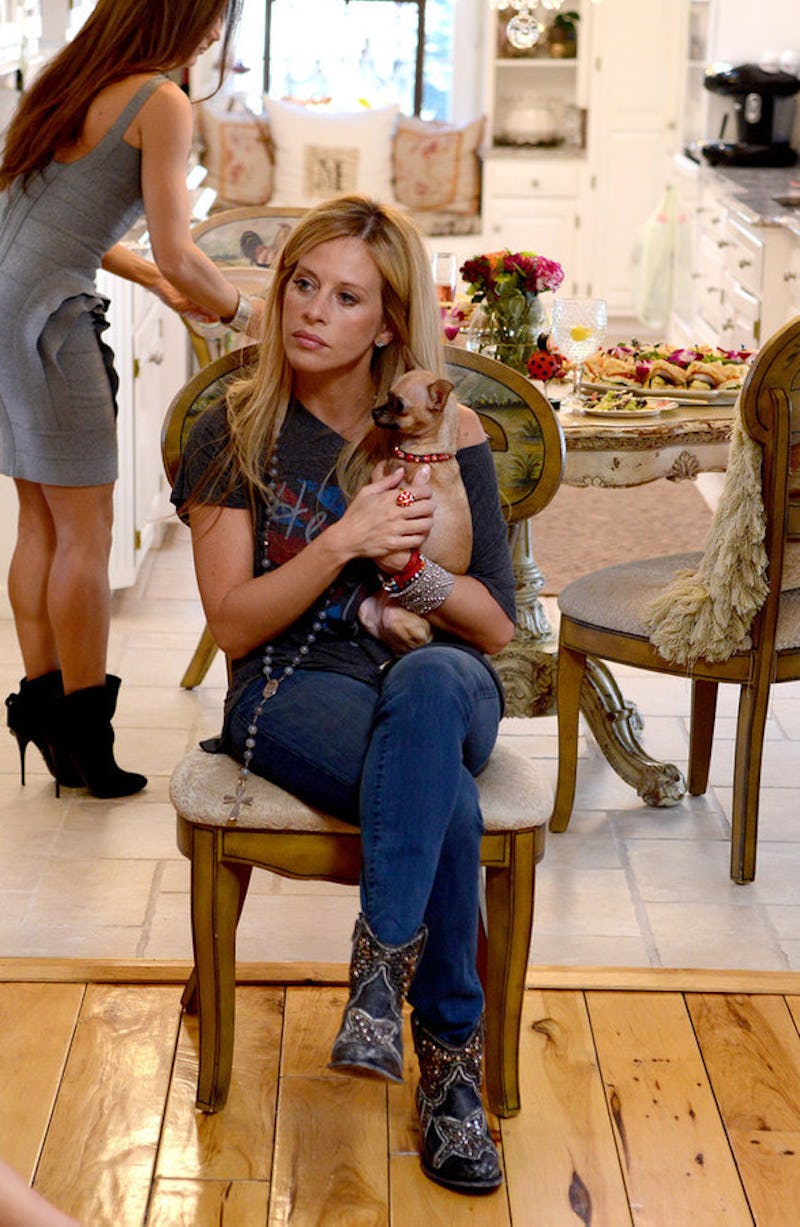 Sure, the dating rumors, the legal battles, and the physical altercations on Real Housewives of New Jersey are entertaining, but the reason we keep coming back week after week isn't so much to see these ladies argue. We just can't stand being away from Dina Manzo's adorable pets for too long. If you watch RHONJ, you know what I'm talking about. Other than her zen attitude, Dina's most defining characteristic on RHONJ has been her bundle of peculiar pets. Dina's pets aren't conventionally cute, but they own their weirdness as does their proud mama Dina, which makes them altogether fabulous.
The OG of Dina's house of misfit pets is Grandma Wrinkles, who we first met during Season 1 of RHONJ. The hairless cat always really freaked out Bravo head honcho Andy Cohen, which made us love her even more. Dina loves Grandma Wrinkles so much that she even went to war for her — a Twitter war, that is. Back in 2010, Dina tweeted that Grandma Wrinkles was jealous of the attention and admiration Cohen was paying to Lisa Vanderpump's fur ball Giggy. Grandma Wrinkles cooled off once Lisa explained that Cohen would obviously be more attracted to "gigolo the sexy beast." They patched things up so well that Grandma Wrinkles and Giggy tied the knot on Watch What Happens Live. Wait, I'm confused. Are we still talking about pets here?
Since then, Dina has filled her home with another bald cat named Botox and a bird with no beak. She also has another cat, Ladybug, who actually has thick, white fur, but she doesn't seem to get as much air time as Dina's more unusual critters.
Her dog Gracie, who only has only two legs, has really stolen our hearts. Gracie's condition is the result of inbreeding at a puppy mill. However, you would never guess that there was anything unconventional about her. Gracie runs around and plays fetch with Dina as if she's got all four of her legs. One look at that face, and you will completely melt.
Basically, all of this is to say that I want to see more of Dina's pets on RHONJ this season. I feel like Dina hasn't been featured as prominently as she should be, and that means we don't get as much Gracie, Botox, Grandma Wrinkles, and Ladybug in our lives. Why Bravo would want to deprive us of all the feel-good times we would have knowing that these offbeat yet equally lovable pets have found a safe and loving home, I don't know.
Images: Mike Todaro/Bravo; bricesander/Tumblr