Back to School Beauty for the Freshman Crowd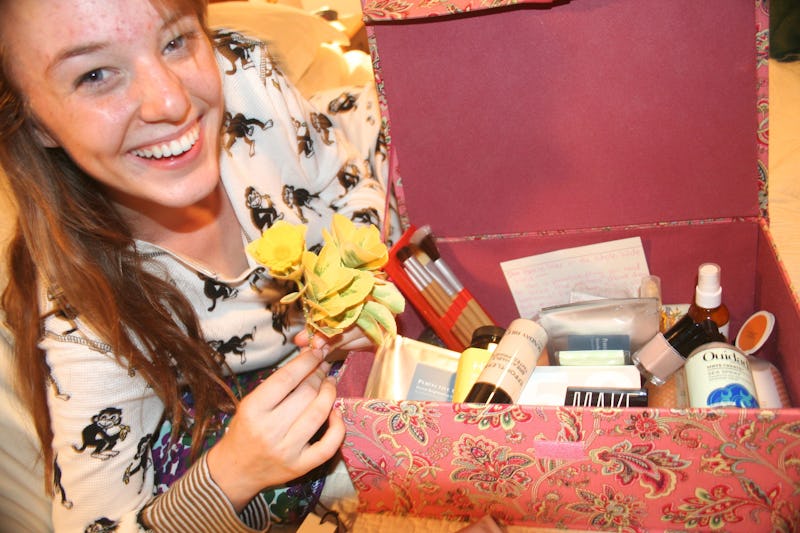 I have four younger siblings, and the littlest and cutest of the bunch is my sister Anna. (You've met already, her when she intrepidly tried on six different pairs of dark blue skinny jeans at the mall.) Anna just left to start her freshman year of college, and although I'm thrilled for her, I'm also basically in mourning. Where has the time gone?!
Since I'm at high risk of turning into the Miss Havisham of older sisters, I decided keep busy by making Anna a going-away care package, stuffed to the gills with all the toiletries and beauty products her smart little heart could desire. (I write about beauty already; it's the least I can do.) Plus, it's a way for me to push my rabid all-natural-beauty agenda on both her and her roommates from miles away! Win-win-win!
If you have an adorable little sister or niece or friend or friend-of-a-friend who's headed into the Great Unknown of Higher Education, feel free to follow in my magnanimous footsteps. I broke down the products into a few vague categories, and topped the whole thing off with a tiny bouquet of fresh flowers. It's not rocket science, though I wouldn't be surprised if Anna majored in it. #biased
THE STASH
For weeks, I kept an eagle eye out for shampoos and lotions and blushes and cleansers that fulfilled at least two of the following qualifications: 1) Mostly organic, 2) College-appropriate (no wrinkle cream here, please), 3) Extraordinarily fun. I ended up keeping about 15% of the final stash for myself. THAT'S CALLED GENEROSITY, OKAY.
What I used: An adorable box to put the whole thing in.
SHE WHIPS HER HAIR
What's the one thing that college students run out of more quickly than anything else? Sleep! What's the second thing that college students run out of more quickly than anything else? Shampoo! College is a grimy scene, and that stuff goes quick. But since college students can never afford anything better (and healthier) than that 99-cent Suave stuff, I decided to start her off with something a little more nourishing.
The pop quiz continues: When it comes to styling hair before class, who has time to be fancy? Nobody, that's who. Beach waves, and the obligatory salt spray that accompanies them, were made for midterms and late-night trips to the library.
What I used: Teadora Rainforest and Dawn Nourishing Shampoo and Conditioner, Ouidad Wave Create Sea Spray
BODY LANGUAGE
I obviously still think of my little sis as a baby, so I broke my uber-natural rule for this adorably young body cream and foaming body wash. The scent is called "Enchanted Forest," and the line just screams I'm a tween at the mall! You're welcome, Mom, for keeping Anna young at heart. For sleepy mornings, a coffee-scented soap will scrub her awake, and for leisurely days sunning on the quad — WITHOUT SKIPPING A SINGLE CLASS, OF COURSE — an SPF with added bronzer is a must.
Speaking of sunlight, do college students even know what the sun is? I remember spending an unhealthy amount of time in the library, during which my skin frantically absorbed all the soothing vitamins available in fluorescent light. Anyway, I thought a vitamin D supplement couldn't hurt.
What I used: Bodycology Enchanted Forest Body Cream and Body Wash, Australian Gold SPF 45 Sheer Coverage Faces with Self Tanner, Hum Nutrition Here Comes the Sun, Osmia Organics Coffee Mint Soap
FACE OF AN ANGEL
If anyone knows college skin, I KNOW COLLEGE SKIN. I know the dryness, the breakouts, the havoc that overachieving stress can wreak on your already-traumatized high school complexion. So I was especially excited to give my sister an acne treatment designed for adults, not pimply prebubescents. It's got a lower concentration of benzoyl peroxide than many teen-focused products, plus natural ingredients like tea tree oil and witch hazel. And I guess my sister's an adult now, so it's okay for her to use products pitched at adults. I GUESS.
To keep her cute little face gently exfoliated, I threw in a konjac sponge, and for the best and most natural moisturizer in the world, a bottle of pure jojoba oil. The sheet masks are for sharing with her roommates — because why look like a serial killer when you could all look like a serial killer? — and the blotting papers are for saving face after dashing across campus to make her 10:10 AM English class.
What I used: Perfect Ceuticals Divine Brightening Mask, The Jojoba Company 100% Natural Australian Jojoba, Arithmetic Acne Control Complex and Konjac Sponge, Boscia Blotting Linens
MAKEUP FOR WILD NIGHTS
18-year-olds don't need a lot of makeup (YEAH, I SOUND LIKE A GRANDMA), so I personally think a tinted primer and concealer are enough for getting that all-natural Instagram-filter look that the kids these days love. The bronzer is for days when she hasn't taken her vitamin D pills, the crazy eye and lip colors are for wild nights out on the town, and the brushes are for feeling like an adult. Because not even her older sister uses makeup brushes — she's too busy focusing on scrunchies.
What I used: MAKE Post-Impression Palette, Sunday Riley Effortless Breathable Tinted Primer, MAKE Concealer and Solstice Bronzer, Soho Naturals 6-Piece Brush Set
MISCELLANEOUS NECESSITIES
It's possible that the best thing in this packet is this: the snuggliest pajama shirt in the world, printed with monkeys eating bananas. What more do you need out of the college experience? It's cozy enough for homesick nights, but hipster enough to wear while eating the inevitable 3 AM Papa John's delivery with her roommates.
These neutral polishes might not be the best gift for any college-bound girl, but they were perfect for my sister, who has surprisingly sophisticated taste in nails. (I stole two, claiming the colors were "all too similar, anyway.")
A makeup case in her favorite colors, because she has to put all this bounty somewhere.
What I used: PJ Salvage Monkey Business Thermal Top, Crabtree & Evelyn Nud-est Nail Lacquers, Trina Campout Valet
MOST IMPORTANTLY
A photo of the two of us, and a note reminding her not to take all this sweet-scented beauty stuff too seriously. I didn't want to give her a box full of lotions and bronzers without reminding her, "YOU ARE MORE THAN YOUR FACE, BABY!"
THE BIG REVEAL
She opened everything on my parents' bed, wearing her new pajamas and my Birkenstocks, but it's okay, because I was wearing her leggings. Later, we did each other's nails in various shades of nude and stayed up till 3 AM watching "The Office." The next morning, she hopped in a car and left for college, soaps and brushes and confidence, I hope, all firmly in hand.
Images: Tori Telfer