Kim Jong-un Loves Water Slides
If there's one thing you can say for sure about North Korean leader Kim Jong-un, it's that he loves water slides. That much is made clear by just one glance at North Korea's new crazy-looking Munso water park, reportedly painstakingly overseen by the youthful dictator himself. CNN reporter Will Ripley and his crew got a rare peek inside the extravagant park recently, and brought back some striking footage — happily playing, splish-splashing North Korean families and children. It's an odd sight, to say the least, and a sharp contrast from the well-documented human rights abuses and food shortages of the North Korean state.
And that could be exactly why the water park was built in the first place. While there's no certain way to get inside the head of Kim Jong-un, North Korea has long shown a strange blend of belligerence and image-consciousness, at least as far as appearances to the outside world are concerned. There's maybe no better example of this than the awe-inspiringly intricate Arirang Festival.
On the other hand, it could just be that Kim Jong-un has a legitimate affinity for carefree theme-park environments. After all, it runs in the family — his elder brother caused major embarrassment to their father, Kim Jong-il, when he snuck into Japan to visit Tokyo Disneyland back in 2001.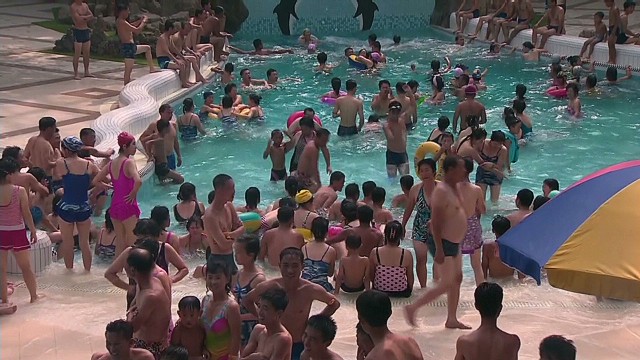 In any case, it was a colossal project, especially considering the problems plaguing the country more broadly. Food shortages are regular in North Korea, and keeping your public fed normally rates as higher priority than high-octane water slides.
And it's that kind of disconnect that makes North Korea's attempt at bolstering public appearances so, well, creepy — at the same time as Kim Jong-un was assessing the Munso water park (according to Ripley's written report, he's said to have checked it out a staggering 113 times), he was also ruling over multiple, brutal concentration camps. Back in February, a UN commission on human rights in North Korea condemned the regime as being nazi-like.
According to The Guardian, retired Australian judge Michael Kirby — one of the three-member panel that assembled the report — said nobody could claim they weren't aware what was going on.
Now the international community does know. There will be no excusing a failure of action because we didn't know. It's too long now. The suffering and the tears of the people of North Korea demand action.
In short, it's easy to look at some of the more absurd headlines that come out of North Korea — including some that seem simply too strange to be true, like thinly sourced reports in March that all North Korean men were being forced to get Kim Jong-un's haircut — and start thinking that it's ruled over by a humorous yet bumbling strongman.
But it's always good to keep in mind, whatever your political persuasion, the full extent of what's going on over there. The North Korean prison camp system, rampant with starvation and executions according to those lucky enough to have escaped, are believed to hold between 80,000 and 120,000 political prisoners. Those are numbers, and lives lost, that no amount of internet memes or water parks can hide — and rightly so.
Images: Getty Images