What Was North's Role at the Kimye Wedding?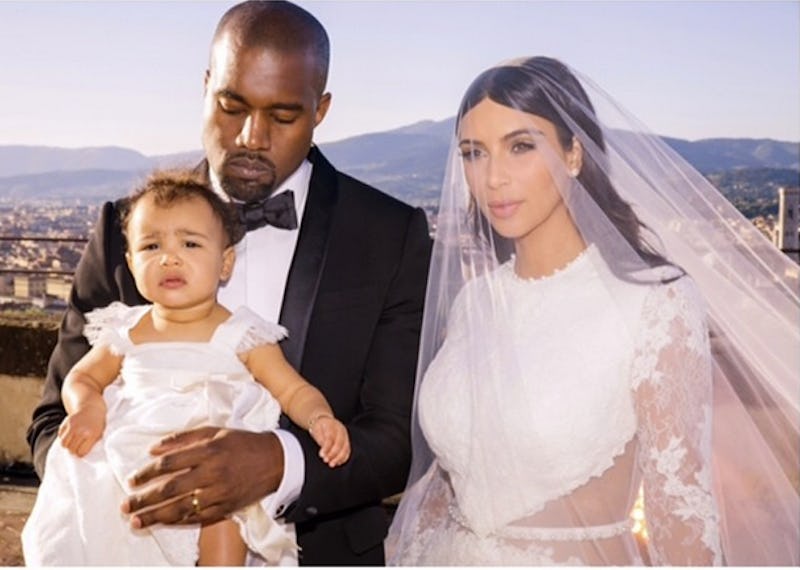 Honestly, how cool must it be to be North West? At 11 months old, back in May, North got to wear a custom Givenchy gown and walk down (okay, fine, she was carried down) the aisle at her parents Kim Kardashian and Kanye West's wedding in Florence, Italy. All while Andrea Boccelli serenaded her and the bride and groom. I mean, how many of you got to do that? Keeping Up With The Kardashians' two-part season finale is finally airing footage of the Kimye wedding and, while it's sure to be magical and an even bigger spectacle than we ever imagined, everyone's really looking at North West.
So, what exactly was North's role in her parents lavish exchange of vows at Forte di Belvedere back in May? You know, aside from being the most adorable part of the above photo and giving her grandma and future momager Kris Jenner an opportunity to walk down her daughter's aisle? (Obviously Kim had to give Kris a reason to not be extremely jealous that Bruce Jenner was walking her down the aisle instead of her mother.)
Most fans already know and/or guessed Kardashian's sisters — Kendall, Kylie, Khloe, and Kourtney — filled the roles of her bridesmaids on the day that she became Mrs. Kanye West. But, again, what about her daughter? Was she technically a flower girl? Or was little North a tad too young, considering she wasn't quite able to trek down the aisle on her own?
According to Us Weekly, Kris carried North down the aisle just ahead of Kim's entrance with her stepfather Bruce. At a wedding ceremony with a traditional processional that would technically make her the flower girl, though she might not have actually thrown flower petals.
But most importantly, she was an adorable addition to all of these wedding photos. And that's what really matters anyway.
Images: KimKardashian/Instagram (2)