We Didn't Get Any Of Kimye's Wedding Ceremony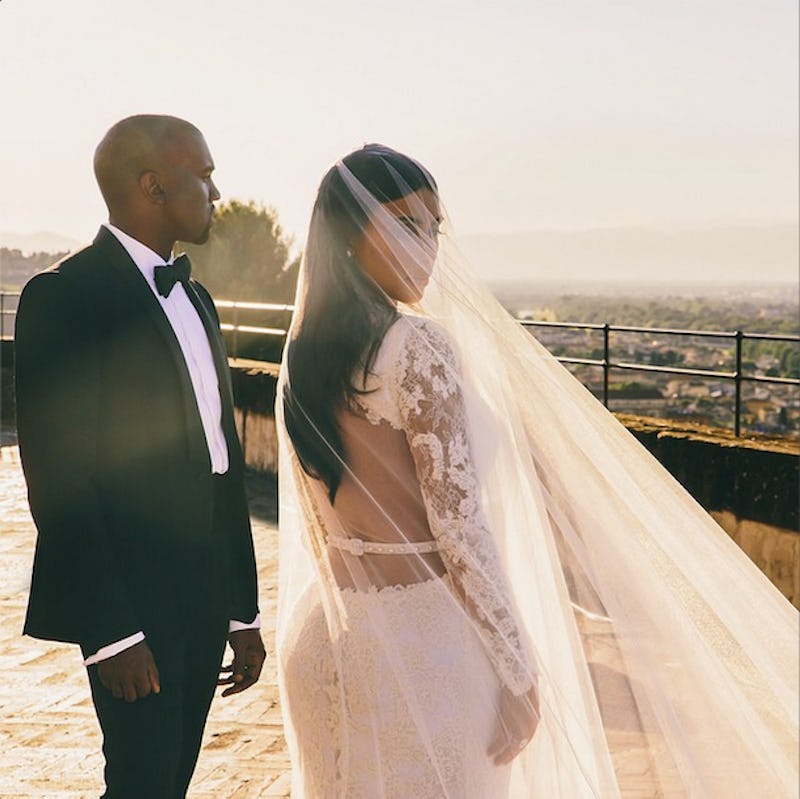 Could this have been the most disappointing hour of reality television since we had to sit through Spencer and Heidi's wedding on The Hills? Monday night's wedding-themed season finale of Keeping Up With The Kardashian s gave fans a look (with really terrible audio) at the preparations and Parisian celebration that went into Kim Kardashian and Kanye West's wedding. Oh, and yet another beautiful Kimye wedding Instagram. But, after all of the hype, we got only a glimpse of Kim walking to the cliff where her ceremony was held while Kanye West's "Awesome" played (ugh). KUWTK's finale didn't show any of Kimye's wedding ceremony and it was a total letdown.
Alright, we knew ahead of time that Kimye wasn't planning on doing a wedding special. Probably because it's safe to assume that Kanye is an extremely superstitious person and probably thought that the KUWTK special for Kim's last wedding was the kiss of death on her marriage to Kris Humphries. But we thought we'd at least get something by the way of hearing Andrea Bocelli sing a few bars or see Bruce shed a tear as he walked Kim down the aisle. Well, none of that happened — Kim mentioned Andrea Bocelli as being her favorite singer other than Kanye (oh stop) and we saw her veil billow in the Italian wind as she rushed to become Mrs. Kanye West. And then the episode ended.
Why? I'm not asking for much here, just a little but of Kanye smiling seeing his bride for the first time. That's it. But, apparently, Mr. West was really just hellbent on the world to hearing "Ni**as in Paris: The Instrumental Version" during the pre-wedding dinner and couldn't find a better way for the world to hate "Awesome." Which, by the way, is SO not the right soundtrack to a bride getting ready to walk down the aisle to the man of her dreams — you're talented, Kanye, but you're not a wedding maestro.
The KUWTK finale was sweet and adorable and exciting. I mean, how could it not be? But it was all build-up and no pay-off for the real Kardashian fans out there that wanted to see our beloved Kim walk down the aisle.
Maybe she can add that to the next level of Kim Kardashian: Hollywood? The chance to attend Kimye's Florence, Italy wedding with some never-before-seen footage of the ceremony? God, I hope so.
Image: KimKardashian/Instagram