Moda Memorandum: Black Chanel Espadrilles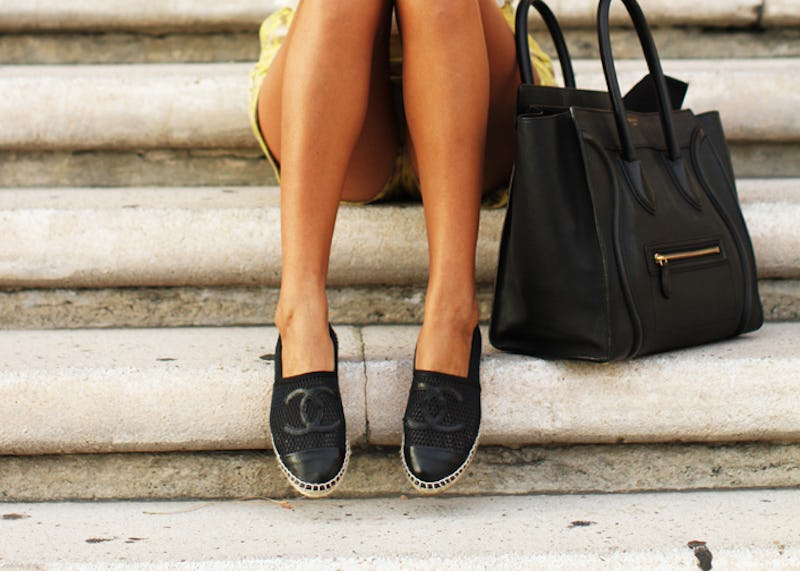 A spray of an old and oft-worn perfume, the eyeliner you used to trace every single day and bought over and over again, a twirl-perfect evening dress with the sequins so ground-down the dress is mostly unwearable — but you just can't get rid of it, either; these are the pieces from our closets and vanities that make personal style meaningful, and we're here to highlight them. Have your own story?
In Moda Memorandum, this new installment on Bustle, we're telling the stories of the shoes that carried you through a wild night out, or the purse you in which your stashed your sister's lipgloss at her wedding. To kick off the festivities, my own:
Here they are, the shoes that have carried me through the summer. I've worn them almost every single day, whether walking the dog, running to the dry cleaner, or meeting friends for an afternoon coffee. But I remember them most for a particular, spectacular summer day.
Summer weekends in New York are usually perfect for an escape. Whether headed to the beach, upstate, across the country, it hardly matters, so much as you get out. It's sticky, it's smelly, and it's overrun with tourists – basically a form of self-inflicted torture. (New York, I love you, I swear!)
Cut back to a date in mid June, in between maddening heat waves. It was Saturday in the city and to avoid streets full of absent-mindedly wandering non-locals, a few friends and I made our way to the roof of their building. Though lacking any furniture, we set up camp near enough the curved edge to get an unobstructed view and catch the breeze that was exclusive to the elevation.
Armed with only a playlist, sunglasses, and a chilled bottle of rosé, the three of us decamped the city for the afternoon, while managing to still stay in place. Conversation prevailed. Incredible city views were taken in. We witnessed the entire run of New York City's golden hour reflected off buildings and windows. Though it's a fleeting "hour", it's not often a New Yorker stays put for long enough to catch it all. We stayed longer still to watch the sun set over the Hudson.
With my knees to my chest, and my feet hanging down the incline of the roof, bottle in hand, one friend took a quick photo that seemed to capture the feeling of our day well. The shared bottle, the silver paint meant to keep the roof cool as the sun baked our surroundings, my shoes.
Without distraction, we were free to talk about everything and anything. Why we moved to New York, why we stayed. The changes on our horizons, and what we hoped to accomplish. A summer Saturday in the city, we realized, was better than it's been cracked up to be.
Espadrilles are season-specific, to be sure, but that ideal summer afternoon cemented this particular pair's status for me. This is my summer shoe, with an ideal summer afternoon embedded in the soles.
Image: @alyssashapiro on Instagram