7 Ways to Include Your Kids In Your Wedding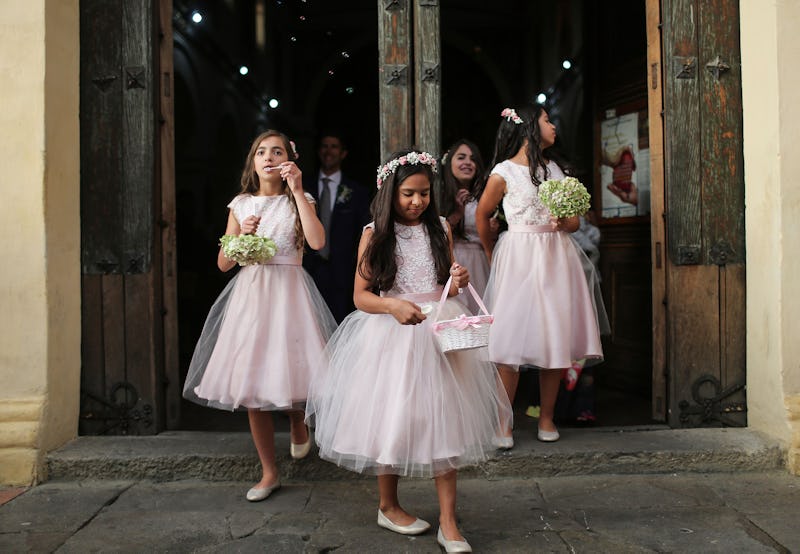 Mario Tama/Getty Images News/Getty Images
When America's Most Perfectly Cheekboned Couple, Brad Pitt and Angelina Jolie, finally tied the knot over Labor Day weekend, the biggest surprise wasn't that the famously wedding-averse pair finally got hitched. Rather, it was that the entire affair seemed to be primarily a celebration of the couple's six children.
From Angelina's gown (which bore embroidered designs created by their children, including the strangely charming nonsense phrase "Buttock Futtock"), to the couple's vows (which their kids helped them write), to the cake (baked by son Pax), every element of the wedding involved the couple's six kids, who allegedly planned most of the event themselves. Jolie and Pitt even described the wedding in terms of the pair's gorgeous spawn — they called it "a special day to share with our children and a very happy time for our family."
As the saying goes, when you get married, you're not just marrying one person; you're marrying their entire family. And with the U.S. Census reporting that at least 29 percent of American marriages are remarriages, a lot of folks out there are marrying into a family in more than the theoretical sense; they're merging pre-existing familial units.
As Pitt and Jolie's wedding showed, there are lots of ways to get kids involved beyond the typical ring bearer/flower girl roles. These ideas can be ill-suited to older kids, or even to younger kids who are confused and irate about having to pay attention to a super-long ceremony and wear a shirt that has been starched. Read on for seven slightly out-of-the-box ways to get kids involved in your wedding, and keep them entertained while also helping them feel like they're a part of the day's big events (and the family that it creates).
1. Let Them Lead a Toast
If you're already a parent, then you're probably already too grown-up to suffer through a best man's rambling toast about the night he and the groom spent in jail 10 years ago (spoiler alert: it was all a big misunderstanding). Use this newfound gap in your toasting schedule to let your kids do a short, simple toast that gets their enthusiasm for the occasion across. And who knows? They could accidentally say something super-insightful.
2. Have Them Take the Lead on the Wedding Décor
You don't have to be willing to go full-on "Buttock Futtock" to let your kids get involved in wedding decorating — even letting kids design or create craft small projects for display during the reception, or help decide what goes in the wedding favor bags, still stresses that they're a key part of the event, and that their choices matter.
3. Let Them Read Their Own Vows
In a lot of blended families, the relationship's earliest days were not about two partners coming together, but a family (or two) expanding to accept someone new. So, if it makes sense in your ceremony, let your kids take part in the vows — either by having the bride or groom include specific mentions of the kids and their new role as step-parent during the vows, or by letting the kids make their own statement (nothing too heavy) about taking this person into their family.
4. Let Them Walk You Down Aisle
For brides who have been spending the years leading up to their wedding in a home with their own kids, not their parents, having a son or daughter walk you down the aisle (in place of, or in addition to, a parent) makes perfect symbolic sense.
5. Have a Family Unity Candle Lighting or Sand Ceremony
Have each child add their own colored sand to the jar, or, if they're old enough to mess around with flaming objects, help light a blended family unity candle that has their names on it, too. It'll be simple, meaningful, and three or four colors of sand will look way cooler than two.
6. Be Introduced as a Family, Not Just a Couple
Spin the traditional couples introduction into a family announcement — enter the reception as a group, and be presented to your guests as "The ____ Family" instead of calling just the bride and the groom out by name.
7. Let Them Perform
If your child is old enough (and/ or hammy enough) to feel comfortable in front of a microphone, let them sing a song, read a poem, or otherwise perform in the ceremony. It's instantly more engaging than having an adult guest perform (who doesn't like to watch a kid in formal wear sing a song? Or do literally anything, for that matter?), and a great way to let them know that it's their special day, too.