'The Brittany Murphy Story' Is Just That, a Story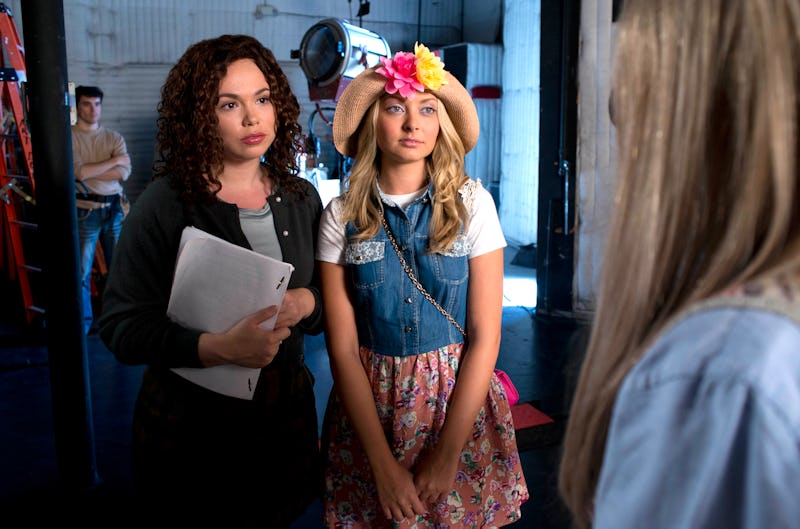 Whoever comes up with the insane ideas over at Lifetime usually sticks to a pair of tried and true formulas for original movies: washed up TV actress + abusive male character + emotional wine-drinking = their dramas, and washed up TV actress + Christmas + cute thing, like puppy, pony, or school-aged child = their comedies. But lately, they've been making headlines for foraying into the "salacious tell-all" genre, with their stabs at Elizabeth Taylor and Richard Burton's marriage, Anna Nicole Smith's untimely death, and less than a week ago, the behind-the-scenes drama of Saved By the Bell. Next up is the life and death of comedic actress Brittany Murphy, delivering a trailer and few clips of The Brittany Murphy Story so outrageously inaccurate, it has managed to disgust even the most dedicated hate-watchers.
First of all, lead actress Amanda Fuller doesn't look a thing like Murphy, and can't even do a passable impression of her extremely distinct New Jersey accent. Of course, Murphy's father, Angelo Bertolotti, who's started a feud with Fuller and the entire Lifetime network over Twitter, has no higher moral ground. While he's complaining about the film's lack of accuracy, it's rumored that he was planning on writing a book and releasing a documentary called Britt , about the conspiracy he's concocted surrounding her death, as reported by the Daily Mail (he believes she was murdered because she supported FBI whistleblower Julia Davis, something Murphy's mother denies).
The rest of Murphy's family and friends have not responded publicly like Bertolotti, but he told that the Examiner that none of her family was consulted about the film. The absence of their input is very apparent, because the film seems to be put together with clips from Murphy's old movies and paparazzi photos. The passage of time seems totally dependent on whether Fuller's terrible blonde wig has bangs or not.
Let's move on to production design. While it's tough to work with an actress who looks nothing like the subject, Lifetime must have blown its entire budget on the soundtrack to The Unauthorized Saved By the Bell Story, because the wigs, makeup, and costumes in The Brittany Murphy Story are HIDEOUS.
And they roped poor Sherilyn Fenn into this mess.
Actually, she looks more like Brittany Murphy than Fuller does. But regardless, the cast full of no-names and the production value of a middle school production of Lend Me a Tenor is almost as lazy as the script and the story it's telling.
More than anything, the lack of accuracy feels like a dishonest portrayal of Brittany Murphy's life and death. Sure, the film does show Murphy on set of films she actually starred in, but it's in the portrayal of her death where the true problems lie. Obviously her death took place in the public eye. But it feels particularly gross to go after it and attempt to turn it into a slam piece on stardom because Murphy wasn't really an A-List "star." She was a very successful actress and never seemed to get very caught up in the lifestyle of being rich and/or famous — something that the public probably would have been cognizant of were it true, given the explosion of paparazzi-driven superstars like Lindsay Lohan, Paris Hilton, and Kim Kardashian.
And releasing this film just five years after her death feels both too late to be timely and too early for there to be a conclusive story about her death. There have been conflicting reports about Murphy's death since 2009, as detailed by The Wrap. The official cause of death was said to be pneumonia, the same disease that killed her husband Simon Monjack six months later. Speculation that mold, nonprescription cold medicine, illegal drug use, or, in Bertolotti's case, poison were the actual cause of death have never been proven or completely discredited. It all feels like a very personal matter that belongs between the Murphy and Monjack families.
It's not fun, weird, or intriguing to imagine what happened to Brittany Murphy the way it is to imagine Will and Kate behind closed palace doors. It's not a tale of a salacious star in too deep, despite what Lifetime is trying to sell. If anything, The Brittany Murphy Story is much more salacious than the life of the star it chronicles.
Images: Lifetime