One Direction Just Set Another World Record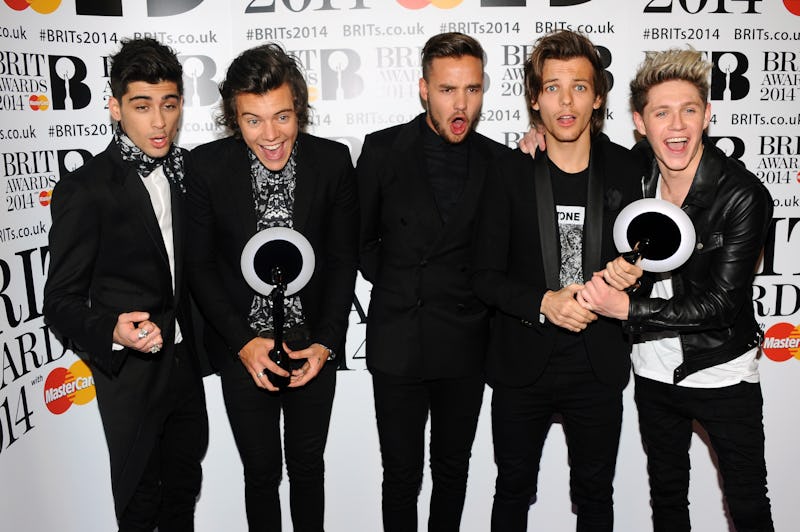 Anthony Harvey/Getty Images Entertainment/Getty Images
Step aside, 5 Seconds of Summer! Out of the way, The Vamps! The biggest boy band in the world is coming through. According to Billboard on Wednesday, One Direction will be featured in the upcoming Guinness World Records 2015 book, along with other musical acts like Katy Perry, Miley Cyrus, Eminem, Shakira, and Metallica. As Billboard reports, the guys of One Direction are the "First act to debut at No. 1 with their first three albums." To put things into perspective, the Guinness World Records website notes that this astonishing accomplishment is something that even legendary acts like The Beatles and Michael Jackson were never able to achieve. Wow.
According to Billboard, One Direction's first two albums, Up All Night and Take Me Home , both debuted at No. 1 in 2012, and their third album, Midnight Memories, accomplished the same impressive feat in 2013. The talented musicians who make up One Direction — Harry Styles, Zayn Malik, Liam Payne, Niall Horan, and Louis Tomlinson — were presented with their official Guinness World Records certificate during one of their Where We Are Tour shows in August.
MTV reports that Niall broke the exciting news to the massive crowd, saying, "This is really one of our proudest moments, both for us and our incredible fans."
Believe it or not, this newest record is actually the band's third entry into the Guinness World Records book. According to the organization's website, the guys of One Direction also hold the records for "First British group to hit No. 1 in the U.S. with a debut album" and "Highest debut entry by a British group on the U.S. charts." Though other boy bands, like 5 Seconds of Summer and The Vamps, have had some notable chart success recently, I think that One Direction's latest Guinness World Record proves that they're still on top.
On Monday, Zayn added to the mounting hype surrounding the band's upcoming fourth album with this Instagram post:
Will One Direction be able to keep up their record-breaking No. 1 streak with the release of their new album? We shouldn't have to wait too much longer to find out.
The Guinness World Records 2015 book is out on Sept. 11.
Images: zaynmalik/Instagram