Could 'Serena' Make Oscar History?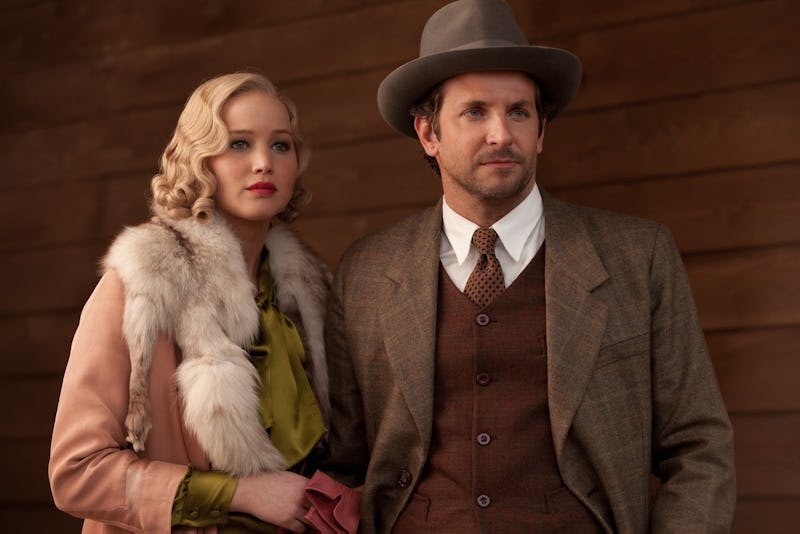 It's been a long time coming, but it looks like Serena , Jennifer Lawrence and Bradley Cooper's third movie together, might finally get released. The Depression-set drama has been in limbo ever since filming ended in 2012, with studios fighting over the rights and the movie's director, Susanne Bier, editing it to perfection. Yet this October, Serena is finally hitting theaters, or at least one theater, when it makes its world premiere at the BFI London Film Festival.
According to The Playlist, the film's appearance at the festival will occur just weeks before its U.K. release on Oct. 24. While there's no still no sign of a U.S. release date, the announcement of the British premiere is a major step in getting the movie to audiences before the end of the year. And, assuming the movie's as good as it seems like it will be (Jennifer Lawrence plays a woman slowly going crazy. I mean, come on), that means one thing: Oscars.
If Serena manages to get nominated for the awards, it'll be the third Lawrence-Cooper collaboration in a row to do so, a feat entirely unprecedented. There've been other frequent actor pairings before, of course — Tom Hanks and Meg Ryan; Matt Damon and Ben Affleck; Ben Stiller and Owen Wilson — but rarely, if ever, have the movies these duos have made gone on to be nominated for an Oscar. The few that have — Jack Lemmon and Walter Matthau's The Fortune Cookie, Katherine Hepburn and Spencer Tracy's Guess Who's Coming to Dinner — were anomalies, certainly not one of three Oscar-nominated acting collaborations released in consecutive years.
And, if Serena's lead actors also get nominated for the Oscars, it'll mark Lawrence's fourth nomination in five years, and Cooper's third in three years. Both of those feats would be enormous accomplishments for any actors to achieve, but for those as relatively new to the scene as the stars of Serena, it's remarkable.
Of course, I'm getting ahead of myself. Serena's still at least two or three months away from getting released, and there's no knowing yet how Oscar-worthy the movie may or may not be. For all I know, this could be Lawrence and Cooper's weakest collaboration yet, a lackluster effort that pales in comparison to Silver Linings Playbook or American Hustle. I doubt it, though; judging from the plot description and the photos released, Serena sounds like it has the potential to be great, another huge, acclaimed success for both of its stars. And even if it's not, I know I'll be seeing it all the same — as Playbook and Hustle have shown, few actors are as exciting, impressive, and just plain fun to watch as Lawrence and Cooper when they're together.
Image: StudioCanal