This Is Totally How Beyoncé Spent Her Birthday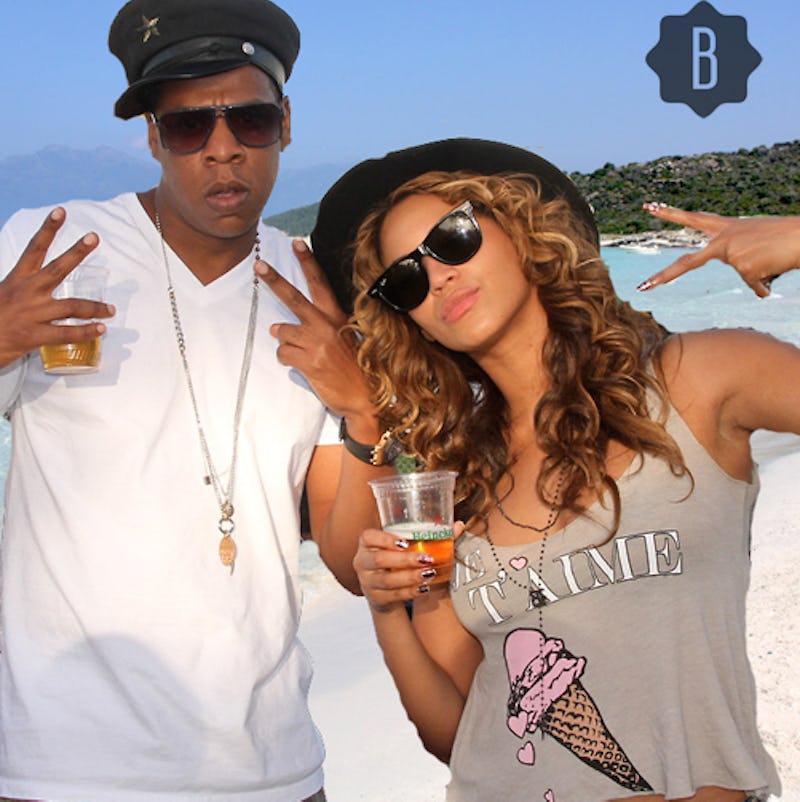 If you're an avid member of the Beyhive like myself, you've probably been wondering how the Queen herself has been spending Bey Day. It's Beyoncé's 33rd birthday, after all, and although we've already acknowledged that every day is Bey Day for Beyoncé, that doesn't change the fact that she should be celebrating her birthday in the most awesome way possible. Oh, sure, her fans are all sitting at home probably throwing their own Beyoncé-inspired parties, but how does Queen Bey celebrate 33 years of being Queen Bey? According to E! Online, Beyoncé, Jay Z, and Blue Ivy went to Corsica for her birthday celebration and it was awesome. I know that because I totally know everything that went down.
An E! Online source revealed that the happy family arrived on a private jet to Corsica, after which Jay Z tipped their hostess €500 or about $648.40 and told her to keep the change. (Where are all these celebrities when I'm remembering how broke I am, huh?) They've even apparently chartered a luxury yacht for the occasion because when you're the American royal family then you absolutely don't have to do anything by halves. As far as I know, Beyoncé and Jay Z have no pressing events coming up to attend and an E! Online insider confirmed that it's a tradition for them to go away for Beyoncé's birthday to relax and spend quality time together.
So if you were Beyoncé and Jay Z and you were in Corsica for your birthday, what would you spend your time doing? I mean, the yacht is nice and all, but surely they can't spend all their time hanging out on an oversized rocking boat. There's a whole island full of beaches to explore. So, naturally, the Carter-Knowles family would spend some extensive time getting their land legs by water too blue to be believed. Pun intended.
But they don't want to get too indulgent and lazy. I mean, you've seen Beyoncé's crazy abs, right? Those don't come without a strict adherence to an exercise routine that would probably make me cry to hear about. In order to keep her fitness at its peak even while she's on vacation, Beyoncé would probably try biking up the mountains for the scenic atmosphere and the pride of screaming, "I AM QUEEN!" off the top of a cliff.
Or maybe they're spending their day jet lagged and sleeping with the intention of going out tonight to a private party for Beyoncé's birthday, Blue Ivy in their arms wide awake from having slept through the flight and most of the day. No matter what they choose to do, they can do it knowing that the rest of us are back here wishing Beyoncé the happiest birthday in the world. After all the great music and feminist pride she's given us in the last year, she has definitely earned the right to kick back and bask in her own awesomeness.
Image: Kadeen Griffiths/Bustle