A Look Back at Her Groundbreaking Late Night Show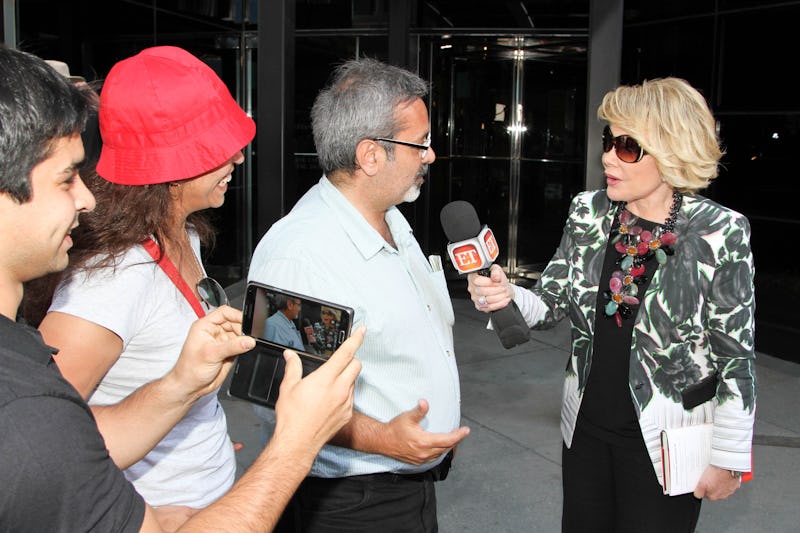 Rob Kim/Getty Images Entertainment/Getty Images
On Thursday, the sad news spread that legendary comedian and actress Joan Rivers had died at age 81. Rivers was hospitalized Aug. 28 when she stopped breathing on her own during an in-patient throat procedure and was later placed in a medically induced coma. Rivers' only daughter, Melissa Rivers, announced her mother's passing in a statement released on Thursday afternoon:
It is with great sadness that I announce the death of my mother, Joan Rivers. My mother's greatest joy in life was to make people laugh. Although that is difficult to do right now, I know her final wish would be that we return to laughing too.
Though Rivers wore many different hats throughout her career, from stand-up comedian to reality television star, she will always be remembered for being the first woman to host her own late-night talk show on network television. In fact, currently, Rivers is the only woman to have hosted her own late-night talk show in network television history. Rivers rose to prominence as a recurring guest star on The Tonight Show in the 1960s. In 1983, she became Johnny Carson's permanent guest host, and just three years later, struck out on her own to host The Late Show Starring Joan Rivers. The show premiered on FOX on Oct. 9, 1986.
Though it only lasted a year, The Late Show Starring Joan Rivers was a groundbreaking moment for women in television. Revisiting the late-night talk show's debut episode nearly 28 years later, Rivers' genuine excitement still practically leaps off of the screen — and her positive energy is infectious. Though her nerves begin to show a bit during her first interview with rock star David Lee Roth (she was, after all, only human), the light in her eyes never dims and the jokes just keep on coming. The episode is a powerful reminder of Rivers' wit, warmth, and talent.
In the wake of Rivers' passing, I hope that her family will be able to find some comfort in remembering all of the ways that she made people laugh over the years. Rivers was fearless, a trailblazer — and one fantastic comedian.