Who Has The Best Sparkly 'DWTS' Outfit?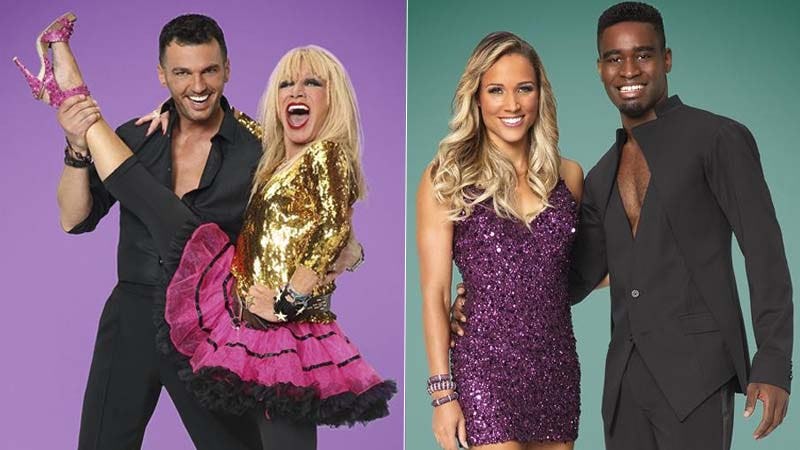 It's a little early to be ranking the new Dancing With The Stars contestants, seeing as we just got the cast announcement Thursday morning — heck, the premiere doesn't even air until next Monday, so it's not like we've even seen any of them dance at this point (Carlton Banks notwithstanding).
Yeah, it'll take us a little while to see what we're working with, like who the surprisingly nimbly footed (and conversely, who are the surprisingly rhythm-less) celebrities are and whatnot. I've only watched two seasons of the show so far (darn that Bill Nye the Science Guy for getting me hooked), so I can't quite make educated guesses, aside from the obvious ones like "the couples with good chemistry are going to get a lot of fan support" (a-hem Meryl & Maks), and "Olympians always do well." Oh, and maybe that whoever's paired with five-time Mirror Ball champ Derek Hough (Bethany Mota, in this case) might have something of an advantage.
Long story short, all we really have to go on this point is the casts' promo images, in which the titular stars are garbed — in true DWTS fashion — in lots of sequins. Who wore it best? Scroll down to see all the sparkles:
Lea Thompson
A little too mother of the bride classic-meets-showgirl chic for comfort.
Bethany Mota
Fine. And inoffensive — but she gets a lower ranking because fashion is her trade, and she's most boring dress of the bunch (take a page from Betsey Johnson's book, girl!)
Betsey Johnson
I'm not gonna lie; this is kind of a hot mess. That said, I have some Betsey Johnson brand loyalty — I wore one of her poufy, hot pink, sequined numbers stag to my senior prom (I'm sure you can tell, I was very cool).
Sadie Robertson
Cute, and age-appropriate for this season's youngest cast member (last season's was Cody Simpson).
Lolo Jones
It's simple, it's classic (as classic as it gets with sequins, anyway) — it's actually quite nice.
Janel Parrish
Janel's look has some fun retro flair to it, and she looks pretty fab in that shade of green. I think I have to give her the win!
Images: Craig Sjodin/ABC