What Will Happen to 'Fashion Police'?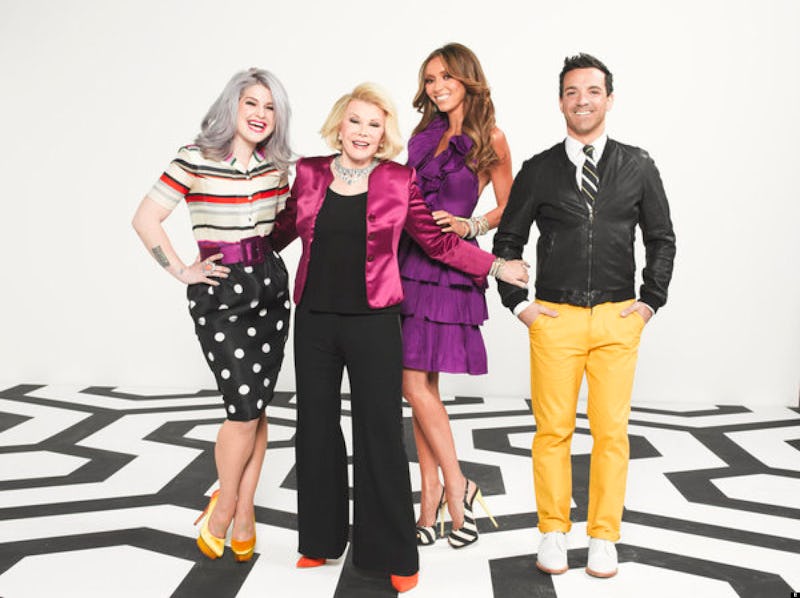 On Thursday, the world lost a legend. Joan Rivers died at age 81 after complications following a routine endoscopy. The biting comedian had been on life support since last week, and after multiple updates from daughter Melissa Rivers that were cautiously optimistic, Joan has passed away. The E! Network has halted their regularly scheduled programs and is airing a live on-air tribute to their favorite celebrity fashion slinger. But what will happen to Fashion Police? Will Rivers' co-hosts Giuliana Rancic, Kelly Osbourne, and George Kotsiopoulos continue on, or will the show come to an end?
Prior to Rivers' passing, E! said the show was on hiatus, then, following news that she had died, the network updated their statement:
Right now we are mourning our beloved Joan. We will respond at a later date with programming updates.
The question remains, though: should Fashion Police continue without Rivers? Is there even such thing as Fashion Police without her? Rancic, Osbourne, and Kotsiopoulos don't have the chops, nor the balls, frankly, to tear into outfits the way Rivers does. They're there to laugh at her jokes and call her out when the joke goes too far. Without Rivers, there'd be no policing of fashion, which is the entire point of the series.
If the show does go on without its host, they'll need to replace her with someone just as caustic. But before we get ahead of ourselves, we'll wait to hear what E! decides.
Image: E!