Who Is The Guy In The Lime-A-Rita Ads?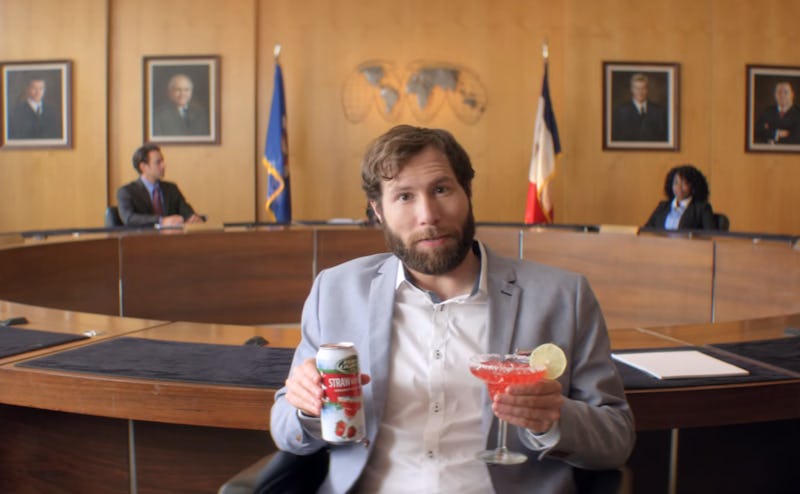 If you only glanced at the ad, you might assume the bearded man serenading unsuspecting strangers with a Lionel Richie song as he gifts them with cans of Bud Light-Rita beverages to be the same bearded man appointed Mayor of Bud Light town Whatever, USA. But! If you look a little closer, you will see they are most certainly not the same guy. (Budweiser's really doubling down on this "bearded dudes sell beer" strategy, eh? Excuse me, beer-ded dudes. Sorry. I'll see myself out.) The singing, dancing, friendly neighborhood beverage distributor in the Bud Light Lime-A-Rita ads is actor/comedian/writer/UCB performer David Charles Ebert, not George Basil.
In addition to the Lime-A-Rita campaign, Ebert has done commercials for Campbell's, SportsCenter, and Wendy's. (The beard, however, is no where to be found in any of those ads. It looks like the Lime-A-Rita ads are Ebert's beard's TV spot debut.)
Prediction/dream: Bud Light does a crossover ad and brings the Lime-A-Rita guy and the Mayor of Whatever, USA together. The Mayor of Whatever has made it abundantly clear he is up for whatever, so he'd probably be down to throw back a Straw-Ber-Rita or two and sing with the Lime-A-Rita guy about their awesome beards.
Image: Bud Light/YouTube