How To Recreate Coach's Runway Beauty Look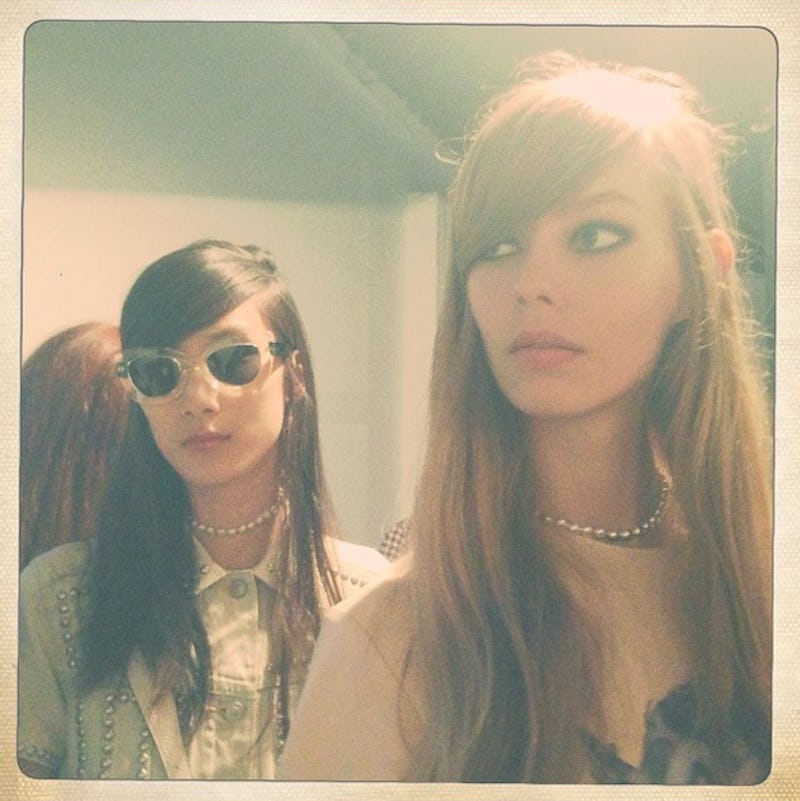 Ooh, New York Fashion Week. Sometimes I enjoy nothing better than scrolling through the freshly-walked runway shows whilst streaming Netflix in the background. This year, Coach caught my eye: They're in the midst of something of a rebranding overhaul, swapping out their previous, slightly-old fashioned aesthetic for something a little more edgy, and it definitely showed in this year's runway show (which reminded me of Kate Spade meets Marc Jacobs, only way less colorful). T-shirts with whimsical characters, furry pastel jackets and acetate sunglasses reigned supreme, and the result was quite fabulous.
The beauty look — while actually more on the understated side — did much to complement the kookier runway stylings. I felt drawn to it because it was simple enough to recreate, yet still a little off the beaten path (off my beaten path, anyway). It was a nice variation on the theme of "strong eyes, neutral lips," so I decided to give it a try.
Upon closer inspection, the look was even simple than I thought: The eyeshadow is all kept below the crease (once we get above the crease, I tend to get confused), there was little to no blush to speak of (though there was some illuminator for glow factor), and the eyeliner was pretty much as basic as possible. Let's take a peek:
The Basics:
Foundation: I went with BB cream, since this is such a youthful, natural look. I used Skin79 Super+ Beblesh Balm, mostly because I found it when I was cleaning my closet the other day and wanted to give it a spin. It definitely delivered! It's got surprisingly high (though not too high) coverage, and it did pretty well for my pores.
Eyebrows: keep it natural. If you want, you can eschew pencils, powders, etc — in fact, I think a clear brow gel would probably be the best product for this look. I didn't happen to have that, and my brows are pretty sparse, so I penciled them in, but it's really up to you!
Cheeks: No blush, but illuminator adds some polish. I used that good ol' cult favorite, Benefit High Beam.
The Eyeshadow
After priming, I used a few shades from my Urban Decay Naked Palette: "Buck" (a warm matte brown) up to the crease and under my eyes, "Creep" (a shimmery black) drawn thickly over my lashline, and "Darkhorse" (a satin dark brown) in the outer corners. For me, there's always a temptation to do a graphic cat eye, but don't wing your shadow out too far — this look is more about following your natural eye shape.
The Eyeliner
Since the black shadow is so thick, you can't really see the eyeliner on the top lid all that well — but I did find that a swoop of gel liner on the top lid (and upper waterline) added some dimension. You should also draw a line almost all the way around your eye on your lower lashline (though don't waterline on the bottom; it will close off your eyes too much).
To Finish:
Use a nude lipstick (my favorite of the day is Bobbi Brown Rich Lip Color in Nude Rose), and add a couple swipes of your favorite mascara — and you're done!
Oh, and I had to try the hair:
It felt like I was wearing my own hair as a hat, but I don't hate it.
Images: patmcgrathreal/Instagram; Rosie Narasaki (5)