Graham & AshLee Need To Break Up On 'Bachelor in Paradise' For These 6 Extremely Urgent Reasons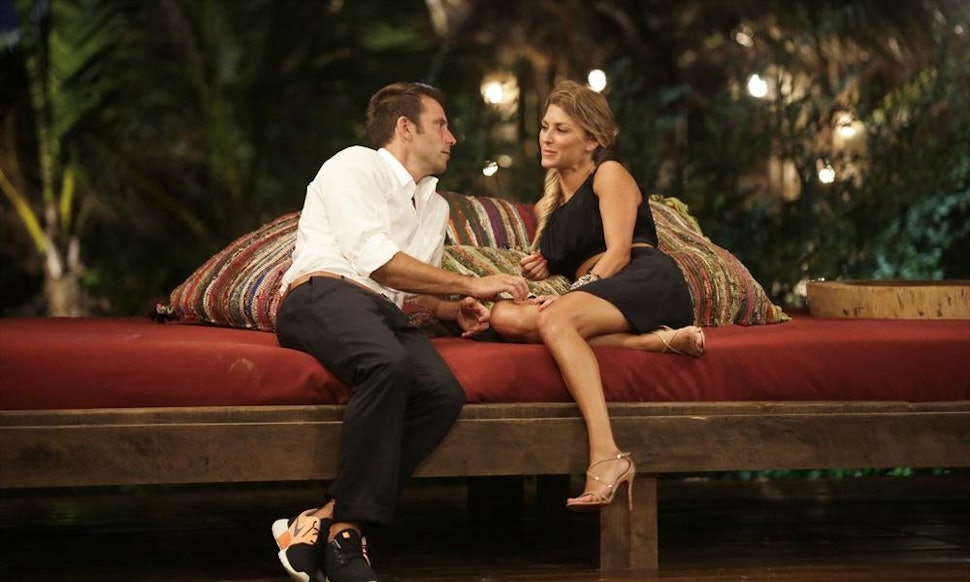 There are a lot of times when an emotional woman is belittled for being "crazy" when actually, she's behaving in a way that's totally understandable and relatable. Especially in the Bachelor universe. But sometimes you have to call out crazy behavior for what it is, and Bachelor in Paradise's AshLee Frazier is completely crazy about Graham Bunn.
From the way Graham was acting, you'd think she's just your average clingy GF, but she's acting like someone who might turn out to be a serial killer. Seriously, her weird intensity and obsession with her relationship with Graham, which hasn't gone much beyond platonic friendship at this point (have they even kissed?), is not unlike the main character from a cheesy '80s thriller. She's shown some weird behavior that should be making Graham very nervous… because the call is coming from inside the BiP house.
Image: Francisco Roman/ABC
Social Media Stalking
Obviously, the craziest thing is that AshLee came to Paradise with the explicit goal of hooking up with Graham solely because she liked his Instagram. That is straight up delusional.
Image: Francisco Roman/ABC
Throwing Tantrums
AshLee basically flipped out, and, according to Graham, started crying when they found out that he didn't get a date card in the latest episode. She kept saying it was because he "deserved one," and is the best guy there, but overreacting to the tiniest perceived insult? That's like the psychos from Single White Female and Swimfan combined.
Image: ABC (screencap)
Nervous Nausea
If a spontaneous attack of nausea comes on every time you're forced to confront the idea of spending another few days with this woman, she's probably not your soulmate, right? I bet if Graham went to the bathroom to splash water on his face, when he looked up, AshLee would appear in the mirror behind him. (OK, actually she never left the rose ceremony even though he was clearly not feeling well… which also pretty bananas.)
Image: ABC (screencap)
Fake Friendship
If Graham is the helpless victim, Michelle Money is the one who pulls out a knife and makes it to the sequel. She sees right through AshLee, but makes sure to keep it in the talking heads, and is nice to AshLee's face purely out of self-preservation.
Image: ABC (screencap)
Grumpy Graham
Graham knows that AshLee is acting out of her mind. He occasionally gets to vent to the rest of the people in the house, but mostly he ends up silently looking miserable while AshLee gushes about how amazing their relationship is.
Image: ABC (screencap)
That Horrible Headband
The woven hippie headband is basically Coachella only at this point. Maybe even Burning Man only. If it was 2007, I'd let it slide, but it has to be the worst possible accessory for Paradise — imagine how awful AshLee's tan lines are? Jason had a hockey mask, Freddy had the fedora, and AshLee has the headband. Run, Graham, run!
Image: ABC (screencap)