Of Course He Did Magic Tricks at Their Wedding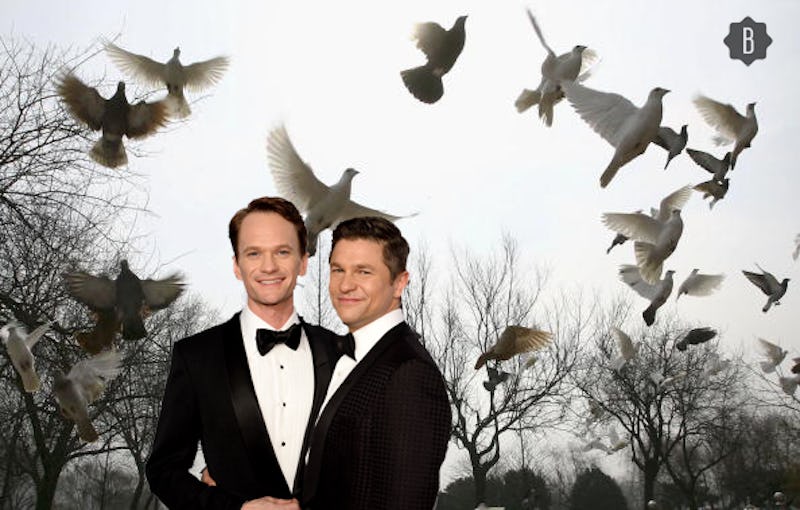 It's a Monday of great news and this is the greatest news I've heard since Angelia Jolie and Brad Pitt got married. The couple I've been wanting to tie the knot since the dawn of forever finally did it: Neil Patrick Harris and David Burtka are married. The pair got married in a secret ceremony in Italy over the weekend and Harris tweeted not only his joy over the occasion, but a picture from the wedding guaranteed to make all our hearts melt. Kelly Ripa, of Live with Michael and Kelly, filled in the details that were missing from Harris' announcement and one thing in particular stood out for me. According to Ripa, Harris did magic tricks at the wedding. It was literally magical. (And legend... ary.)
"There were magic tricks, because you know, Neil is way into magic," said Ripa, referring to the fact that Harris is the President of the Board of Directors of Hollywood's Magic Castle and has even won awards for his magic in the past. Ripa didn't mention when he did the tricks or what kind of tricks that he did, but my imagination is already in overdrive. What kind of magic tricks would one perform to commemorate an occasion like the greatest of all weddings?
1. Dove Trick
Correct me if I'm wrong, but isn't it a key part of the magician stereotype to pull an animal out of a hat? Imagine, if you will, Harris wearing a top hat with his tux at the wedding. Then, once the ceremony is over, he takes the top hat off his head and out flies a dule of doves. (Apparently, that's what you call a group of doves. Fun fact.) Or don't imagine it because I made you a picture.
2. Ring Disappearing Trick
Who's to say he waited until after the wedding? Maybe the ring bearer approached with the rings on a pillow and Harris made them disappear before pulling Burtka's ring out from behind his ear. Or from his pocket. Or from behind the priest's ear. And somewhere in the audience, Gideon Burtka Harris was busy kicking himself for turning down the role of ring bearer.
3. Self-Disappearing Trick
You know how some couples walk down the aisle once they're finished getting married in front of their family and friends? Well, that's boring. For his next trick, Harris totally made himself and Burtka disappear as soon as they were pronounced man and husband. Now you see them, now you don't.
4. Card Tricks
Nothing spices up a reception quite like card tricks and Harris probably knows over a thousand of them at this point. If the music, booze, and food aren't enough to keep his guests entertained, then I can see him telling Burtka or one of the children to pick a card, any card, and then getting the whole audience involved.
5. Levitate Trick
The Italian wedding that I have been waiting 10 years to see happen is one thing. Trust me, I am delighted by it and everything that I have heard about it is wonderful, romantic, and a dream come true. But if Harris' magic tricks didn't include making himself and Burtka levitate off the ground à la David Blaine then I am going to be very disappointed. The opening for a "so happy I could float" pun would have been too perfect!
Image: Kadeen Griffiths/Bustle