8 Nutrition Bars That Are Actually Healthy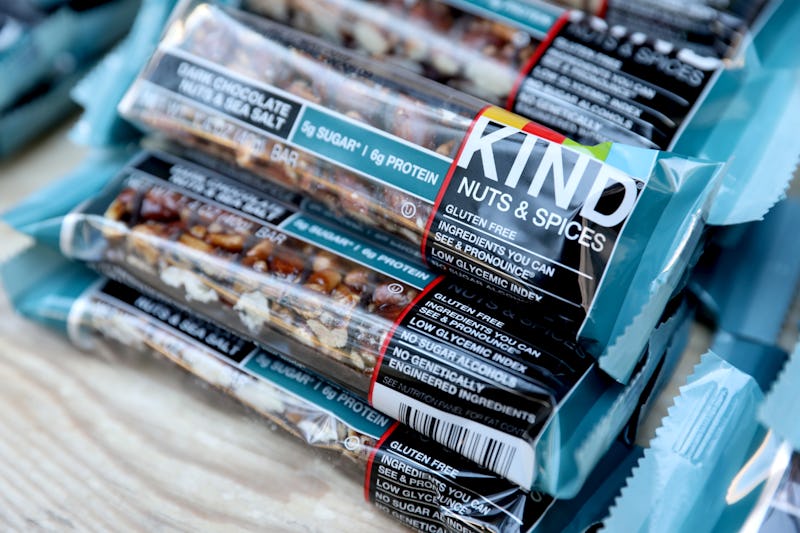 Anna Webber/Getty Images Entertainment/Getty Images
There are countless types of health bars lining the shelves of the grocery store. They promise to boost your energy, help you lose weight, and so on — but to the untrained eye, it's hard to know which ones are the real deal.
I spoke with a number of experts to help break down ingredient names, nutrition facts, and everything else that makes up the world of protein bars — as well as get some pro recommendations.
Here are eight commonly available nutrition bars and the expert opinion on why health nuts can feel safe consuming them.
FiberLove
FiberLove bars, which come in a variety of flavors, are relatively low in calories and are very filling — each bar boasts 12 grams of fiber (!!), due to a mix of soluble and insoluble fiber from whole grains and seeds. They are non-GMO, kosher, and soy-free (but not gluten-free). They also travel well, says Jessica Katz, R.D. — "no melting or crumbling."
Larabar
Katz calls Larabar, a frequent nutritionist pick, one of the most natural bars around.
They are made solely from wholesome ingredients such as fruit, nuts, and coconut. "When it comes to ingredient lists, minimalism is a good thing," she says. You may notice a higher sugar count than low-carb bars, but the sugar is from fruit.
"Larabars are a perfect dessert substitute for sweet-tooth cravings," Katz says.
GoMacro
Katz looked at the peanut butter chocolate chip protein pleasure flavor of GoMacro. GoMacro provides a large, filling, vegan protein bar.
Go Macro bars have 12 grams of organic plant-based protein from both sprouted brown rice protein (i.e. enhanced nutrient absorption that is easier to digest) and pea protein. The bars are also made with high-quality ingredients, including dark chocolate chips that are organic and fair trade. The source of iron in the bars is from plants.
Personally, I find these bars are insanely tasty, and I have been incorporating them into my own diet quite a bit since starting research on this story.
Health Warrior Chia Bars
Chia Bars from Health Warrior contain lots of nutrients in a small package. Chia seeds are a superfood for good reason: They are a plant-based complete source of protein, and contain all the amino acids our bodies need — plus fiber, minerals (such as iron, calcium, magnesium), and anti-inflammatory, mood-boosting omega-3s for our brain and heart. These are small and make for a good low calorie, gluten-free, vegan, non-GMO snack.
22 Days Nutrition
22 Days Nutrition's PB + Chocolate Chip Nirvana is Katz's top pick for a filling vegan protein bar (with 20 grams raw, organic brown rice protein).
They're gluten-free, plant-based, non-GMO, and soy-free, and contain raw and organic superfood ingredients such as sprouted flaxseeds, a plant-based source of iron. Also, delicious, Katz says.
KIND Bars
Joan Borysenko, author of the upcoming book, "The PlantPlus Diet Solution" is an advocate for KIND Bars, specifically the Caramel Almond and Sea Salt flavor. "Unlike some bars, KIND products are packed with healthful, protein rich, hunger-slaying nuts and relatively few sugar carbs," she says.
ThinkThin Bars
Lauren Minchen, RD is a fan of ThinkThin Bars because they are lower in sugar (about 2 grams) and sweetened with Stevia and sugar alcohols rather than artificial sweeteners. They're also gluten-free, kosher, vegan, non-GMO, and low-glycemic.
The final nutrition bar Katz recommends (and is admittedly biased on) is her own — the recently-launched SKINny Experts Bar, which she collaborated on with dermatologist Gervaise Gerstner. It is a high protein and high fiber bar made to be nutritious but also contains ingredients to enhance your complexion.
Whether you're looking to protein bars as a snack or as a quick meal on-the-go, all of the above bars ensure you're actually eating something healthy.