9 Stylish Football Shirts And Other NFL Gear For Ladies Who Love a Solid Sunday Funday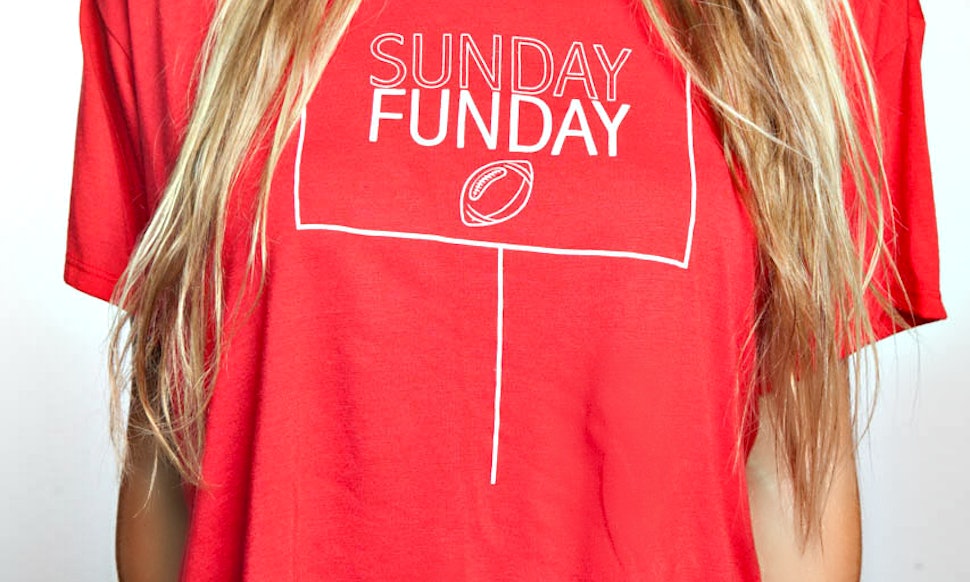 It's been a rough few weeks to be a female football fan. And that's putting it lightly. But now I'm here to restore your faith in your fandom. While the NFL figures out its own moral code, I'm going to help you find something to wear for Sunday Funday. It's time to pack away that kids' XL jersey you've been rocking for years because it's literally the only one you could find that fit. It's time to back away from any form of pink-washed NFL apparel. Instead, check out this awesome football gear any self-respecting female fan SHOULD be caught wearing.
Non-Tacky Sequins
Guys, those are sequins all over the shirt. And not even cheesy-is-it-New-Years-Eve sequins. So yeah, I'm in love with this.
Majestic Women's Touchdown Queen T-Shirt, $35, NFL Shop
Vintage Sweater
There's nothing more beautiful than the combination of sweater weather, pumpkin spice, and football. Calling all basic bitches, you need these throwback threads.
'47 Brand Women's Passblock Sweater, $70, NFL Shop
Sunday Funday Tee
Blaine Bowen appreciates the value of Sunday freakin' funday, the very best day of the week.
Sunday Funday T-Shirt, $35, Blaine Bowen
Peyton Manning Tank
Just like Peyton, this tank top from Etsy is classic.
Peyton Manning NFL Officially Licensed Denver Broncos Womens Tank Top S-XL, $27, Etsy
Bomber Jacket
Haven't owned a Starter Jacket since the '90s? Time to get back in the style game with one of these bomber jackets.
Womens Starter Blitz Satin Jacket, $80, NFL Shop
Football nail decals
Dolphins Tank
All football merch should be vintage-inspired, IMHO.
NFL Miami Dolphins Tank, $32, Junk Food Clothing
NFL Sweatpants
Because Sunday Funday also applies to quality time spent on your couch.
NFL Shield Sweatpants, $60, Junk Food Clothing
Team Spirited Cell Phone Case
You DIY everything else, so why not add your new iPhone case to the list? You can upload any image to Skinit.com to make a stylish case that shows off your team spirit, or pick one of their pre-made NFL skins.
Custom iPhone 6 Case, $30, Skinit