Pink takes on folk music and it's amazing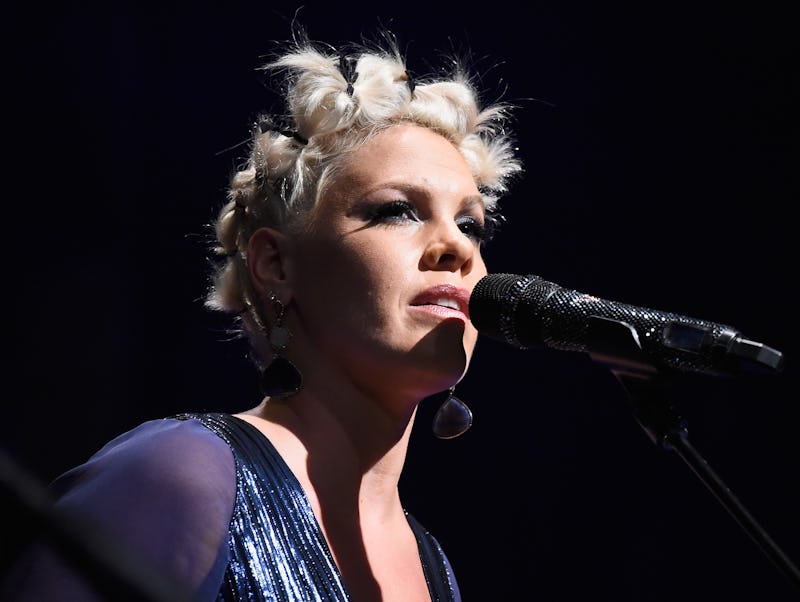 Frazer Harrison/Getty Images Entertainment/Getty Images
This isn't the first time Pink has proven to be a versatile artist, but it might be the most surprising. Last year, Pink won over music fans with her collaboration with fun. frontman Nate Ruess on their hit song "Just Give Me A Reason." The song itself was a bit of a departure for Pink, but with the news of her new "baby," it seems to have been the perfect lead in to what fans can expect from her next. On Tuesday morning, the songstress tweeted out a link to a website with the caption, "Here's my new baby!!!!" and no, the link does not send you to a picture of an ultrasound. Instead, the link will bring you to a website for You + Me, Dallas Green — of City and Coulour — and Pink's new folk duo.
The site advertises that an album is on its way, set to come out Oct. 14. According to RyanSeacrest.com, the Green opened for Pink's Truth About Love tour which went on for the entire 2013 year. The two took to the new group's official Facebook to say how excited they were for the upcoming album, "rose ave."
After months of collaborating and making music together, we are finally ready to share, "You And Me" off our upcoming debut album, #roseave. We hope you enjoy it.
Along with the announcement, the duo released a song off of the album, entitled "You And Me." Listen below.
As you can tell from the song, this transition for Pink seems like it could be another home run for the Grammy winner. Here are four reasons why Pink's move into folk music is going to be her best move yet.
1) She's done the pop music scene, and killed it
Watching Pink perform these past few years has essentially been watching Cirque du Soleil, The Ringling Bros. Circus, and Pink perform. She has won three Grammy Awards during her career, and is constantly coming out with chart-topping songs.
2) She is a great collaborator
In 2013, her collaboration "Just Give Me A Reason" with fun.'s Nate Ruess was the in the top 10 of Billboards Hot 100 across all genres. Another great collaboration that you might be forgetting just from it being 12 years ago? "Lady Marmalade" won Pink, and the three other women she collaborated with, a Grammy.
3) Her voice was made for folk music
Pink has one of those voices that doesn't need autotune or computers to sound amazing. Folk music is going to let her vocals shine, proving once again that she is a musical force to be reckoned with.
4) The fans already love You + Me
The announcement of the collaboration went out just this morning, and not even 12 hours later, the Limited Vinyls of the new album have already sold out.