The 'AHS: Freak Show' Full-Length Trailer Spurns Character Theories Galore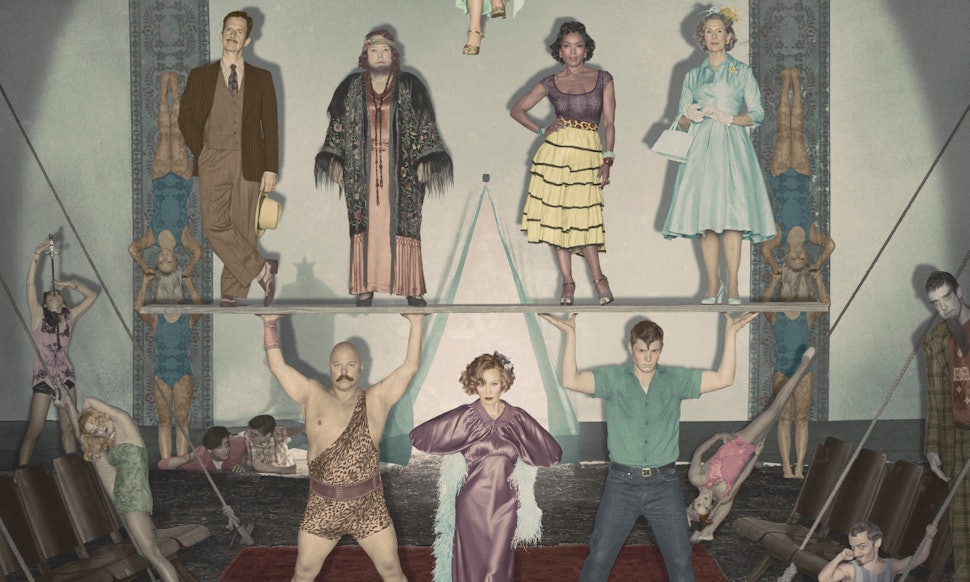 After a smattering of vague teasers, American Horror Story: Freak Show has finally released a full trailer and it's showing off all the finest freaks first — say that five times fast. Set to the supremely eerie song "Carousel" by Melanie Martinez (The Voice alum!), the trailer shows off most of Ryan Murphy's favorite recurring players — Kathy Bates, Angela Bassett, Evan Peters, Jessica Lange, Sarah Paulson — and a few new guys who will be filling out the performers in one of 1952's last traveling Freak Shows.
In advance of each new season, AHS strikes a balance between giving its fans lot of clues as to what to expect, and then turning all of those clues on their head the moment the show premieres. But we've got to try don't we?! Here, I'm laying out a few theories garnered from the new Freak Show trailer. As the song says, "You already bought a ticket and there's no turning back now."
Image: FX
The Bearded Lady as the Big Bad
While all the other players are hamming it up a but in their introductions, Kathy Bates' Ethel Darling is playing it strictly sinister. Either Ethel takes being the Bearded Woman pretty seriously, or she's up to something particularly freaky… perhaps she's the reason people are "savagely" threatened in Jupiter, FL the second the Freak Show arrived, like the series' official description teases.
Image: FX
Strongest man is a ladies' man
Murphy told TVLine that Michael Chiklis' Strong Man has been "written to be quite vulnerable," and it looks like his weakness might be the ladies. Not only does he have to balance that woman on his shoulders while he lifts weights, but it looks like he'll be juggling scenes with his new wife (Angela Bassett — what a way to welcome Chiklis to the AHS fold) and the Bearded Lady (Kathy Bates).
Image: FX
An old player with a new addition
Well, this isn't so much a theory as a fact: Angela Bassett's Desiree Dupre has three boobs. That much is pretty clear in the trailer. She's looks to be pretty full of herself — wouldn't you be? — so I'm betting on drama in the main tent for anyone who stands in her way.
Image: FX
Evan Peters is back in the evil saddle
Evan Peters has been stuck in the nice guy role — or as nice as you can get in American Horror Story — and it looks like he might be ready to go full creep again in Freak Show. The trailer shows him tenderly caressing a young woman, but those caresses happen to come at end of a pretty gnarly set of claws. Also, he just looks like he's up to something… I don't think there will be anything Darling about Jimmy, the son of Ethel and Wendell.
Image: FX
Something's wrong with Dot (and Bette)
Sarah Paulson's two-headed conjoined twin is surely the character fans are most excited to see on screen, and for a long time, Dot and Bette were the only visual we had from Freak Show, with Murphy and Paulson both tweeting out a test image in June. But it looks like there's more to the women than just a couple of sisters on the road with their Freak Show pals. Namely, one sister looks quite pleased with her current situation, and the other looks like she might be ready to go solo. I'm predicting a bodily civil war between Dot and Bette.
Image: FX
A Brand New Character Could Take Top Billing
Though Jessica Lange's Elsa Mars appears to be leading the Freak Show, and not necessarily of performer herself, everyone knows she's generally the biggest freak of all. As she's a maven in a dying industry, she'll probably has a few (terrible) tricks up her sleeve to keep her freaks in line, and keep the seats filled. Let's hope things don't end badly for new AHS actress, Jyoti Amge, aka the smallest woman in the world, who seems like she might have a special place at Mars' side.
Image: FX