#TBT Reads: Let's Go Horse-Crazy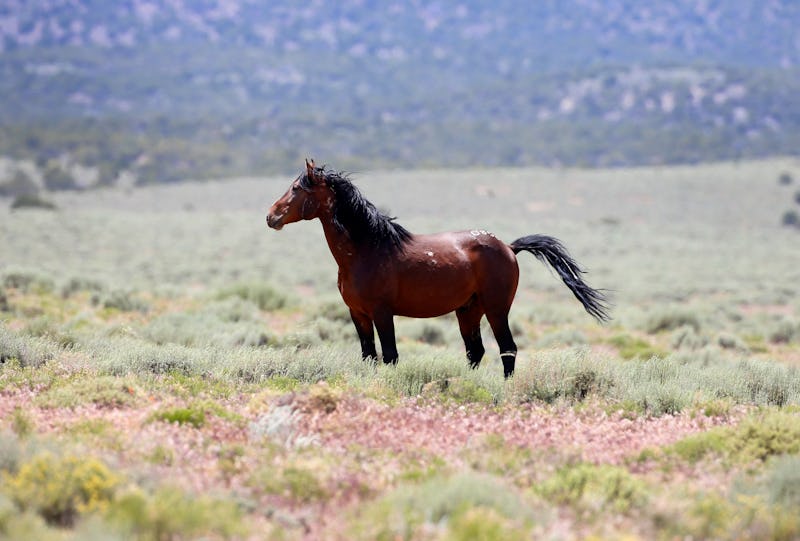 George Frey/Getty Images News/Getty Images
While I grew up in a city and had barely ever even seen a horse, nevermind ridden or had a horse, I became hooked on horse culture. And I don't think I was alone. Our childhoods were flooded with horse series from the enduring, incredible works to the, well, silly. Any trip to the library was basically, "Can you direct me to your horse section, please?"
Maybe it was all those episodes of Hey Dude on Nickelodeon, or that I would rent the VHS of Wild Hearts Can't Be Broken every Friday night, but I was pretty sure at one point I would form a strong bond with a pony, then we'd grow up together and be best friends. While I never did become a cowgirl, all those readings of Black Beauty and My Friend Flicka did open the doors to some a whole lot more reading about wild horses and the young boys and girls who loved them.
The Saddle Club, Pine Hollow, and Pony Tails by Bonnie Bryant
Bonnie Bryant is the queen of horse series. From her original series The Saddle Club to its two spin-offs, she basically encouraged an entire generation of young girls in their love of horses and riding. But what you might not know is she's also responsible for some behind-the-scenes ghost writing on another insanely popular series, The Baby-sitters Club.
Let's start with the series that started it all, The Saddle Club.
The title of the first book in the series, Horse Crazy , just puts it all out there. Readers were so horse crazy themselves that a series originally specified to be four books long ended up being 101 books, seven special editions, and spawning spin-offs. The books followed 13-year-old riding newcomer Lisa Atwood and her pals Stevie Lake (aka the best one) and Carole Hanson as they rode at Pine Hollow Stables. Australian TV also picked up The Saddle Club as a TV series, featuring none other than Thor himself, Chris Hemsworth.
Pine Hollow, of course, was the "older" spin-off of The Saddle Club, which followed the girls four years into the future.
Spoiler alert: Four years into the future, they all still love horses. But this time, there are boyfriends.
Pony Tails was essentially the "Baby-sitters Club Little Sister" of the Saddle Club books, featuring 8-year-old girls instead of preteens. Thus, they ride the corresponding young horses, the ponies.
I see what you did there with the matching titles, Byrant.
Any young horse lover worth her salt knew that Marguerite Henry was one of the best of the best. Misty of Chincoteague was a Newbery Honor Book, telling the story of a band of wild ponies living on an island of the East Coast of the U.S. Two young children want to purchase Phantom, an elusive horse that runs on the island, capturing the idea of trying to tame something that belongs in the wild. Even cooler? It's based on a true story.
You can't talk best of the best without mentioning Walter Farley. His Black Stallion series has endured decades as one of the most beloved in the horse genre. And there's a reason: it's full of adventure, friendship, and the bond to the natural world. If you haven't picked this one up since grade school, you can probably run through the first book in a weekend.
Here's where things start to get weird. As if someone sensed that horse books, like vampire books recently, were flooding the market and they needed a new angle, now came the books about horses that are ghosts. See: Ghost Horse .
Despite the name, no the Phantom Stallion isn't literally a ghost, but he is shrouded in mystery. When a young girl feels a unique bond to this legendary horse, she feels the need to protect it and all horses from various attacks: cougars, earthquakes, and thieves, to name just a few.
I had to add this one because the first book in this series is titled I Want A Pony . That is all.
Click Here To Buy
The Thoroughbred series starts off incredibly sad: a disease killed all of the horses in Ashleigh's family's breeding farm, even her favorite Stardust. So she's sworn to never fall in love with another. However, as there are more than 60 books in the series, you can bet she breaks that promise.
If you grew up loving horse books, try reading...
1. Seabiscuit by Laura Hillenbrand
While Seabiscuit is centered on horse racing rather than just general riding, no horse-lover should go without reading this super popular nonfiction underdog story.
The horses in Out Stealing Horses aren't the star of the show, but they are a critical piece of the puzzle as the story of two sets of twins unfolds just after the Germans left Norway in 1948.
Cormac McCarthy's National Book Award-winning novel follows John Grady Cole, a Texas rancher who sets out for Mexico on his horse to find work as a cowboy.
Image: Giphy