McBrunch Might Be a Thing Soon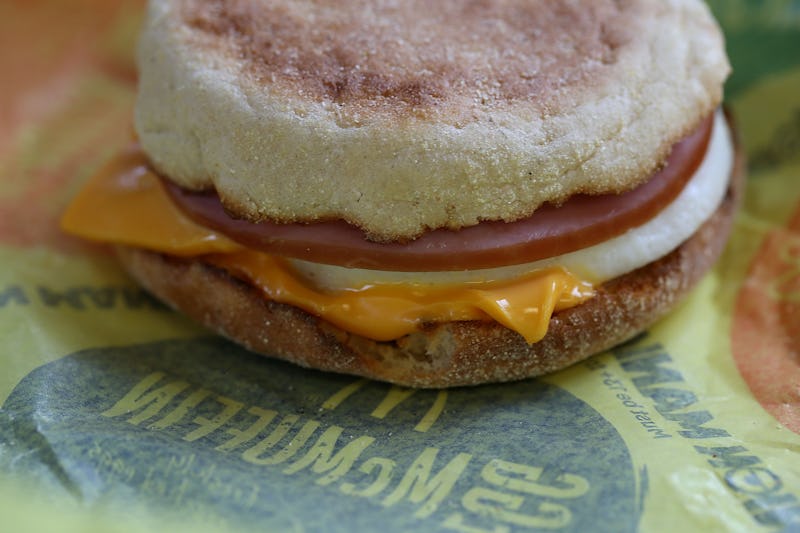 Justin Sullivan/Getty Images News/Getty Images
Brace yourselves, bottomless brunch fans: McDonald's McBrunch might soon become a reality. A spokesperson confirmed to Burger Business that the company has filed an application to trademark the term — although it's also worth noting that the spokesperson said, "We routinely file intent to use trademark applications as a regular course of business. We can't share details at this time as to how the trademarks may or may not be used." As such, it's possible that although the trademark has been filed, it's just so McDonald's can hang onto it in the off chance they want to use it later. I guess we shouldn't get too excited yet.
As Eater reports, this isn't the first time McBrunch has been in the cards; McDonald's previously filed an application for it in 2001, but subsequently abandoned it. It's understandable that they might be a little nervous about giving it a shot — Burger King's attempts at launching a brunch menu in 2010 failed to catch on — but hey, it doesn't hurt to keep your options open.
If McBrunch does come to fruition, what form will it take? The whole point of brunch is to provide a leisurely time (preferably lasting all day) during which it's acceptable to consume both breakfast and lunch while catching up with friends and drinking far too many mimosas. Accordingly, one would hope that McBrunch in America would take a similar form to that which it does in Germany: extended breakfast hours on weekends and holidays. McDonald's appears to be aware of the growing demand for increased breakfast availability, as they've been experimenting with it for a while; in an article about extending the breakfast hours, McDonald's USA President Jeff Stratton told the AP, "We know, as an example, that breakfast on the weekend cut off at 10:30 doesn't go very well." See? Brunch is clearly a good idea. Breakfast all day, please.
Even though I know we need to keep our expectations in check, I can't help but wonder what might be on a hypothetical McBrunch menu. Here are my picks; tell us about yours on Facebook or Twitter!
1. McMosas
This is the big joke that's currently circulating Twitter, as seen here:
Here:
Here:
And, perhaps most horrifyingly, here:
My concern is this: If your local McDonald's doesn't have a liquor license, a McMosa is probably going to consist of something like watery orange juice from concentrate mixed with Mountain Dew, a la Taco Bell. If there's actual Champagne involved, I'll be a happy camper, even if it's cheap. It's the principle of the thing.
2. The McGriddle Burger
Take a McGriddle, make the hotcakes really big, replace the sausage with a burger, and for bonus points, throw some bacon and cheese on top. Win!
3. Bloody McMarys
Or, conversely, Bloody McCaesars, even though the phrase doesn't have quite the same ring. What can I say? I'm a sucker for alliteration.
4. The McKitchen Sink
This, of course, should have everything: Hotcakes, oatmeal, bacon, sausage, eggs, a burger, some fruit… everything. It will be enough to feed a small army (and, in fact, probably should only be eaten by a small army — I shudder to think how many calories it would pack). And it comes with a McMosa or Bloody McMary, of course.