'The Good Wife' Will Cross "The Line"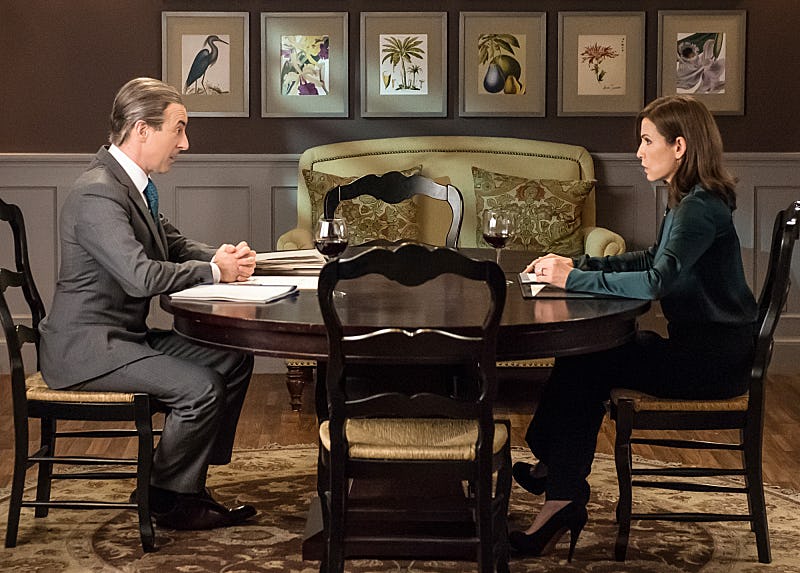 The Good Wife is one of those television shows feels like it has been on the air since the birth of television. You mean it's only going into its sixth season? You mean they've packed this much drama into only 112 episodes? The Good Wife has lived the life of fifteen different television dramas, and it's still only getting better — and if you need more proof, check out the fact that Juliana Margulies just won another much deserved Emmy. Last year's Season 5 finale was titled "A Weird Year," and it most certainly was, especially for the Florrick/Agos firm. This year's The Good Wife Season 6 premiere is called "The Line," and it sounds like something that's about to be crossed.
Let's remember how last season finished. The end of the weird year had Eli, kind of bluntly, asking Alicia if she's interested in running for State's Attorney. She blurted out a shocked, "What?" like she was about to follow it up with a big belly laugh. But Eli seemed serious: he is on the hunt for a needs a new candidate, in the wake of Finn Polmar bowing out of the race.
CBS released a short Good Wife Season 6 preview that shows Eli asking, once again, if Alicia will run for office. Then, the preview shows Alicia telling Eli again (and again) that she has "no interest" in running. Suuuure. Something will change her mind. Maybe this is the "line" she's going to have to cross — the literal political line when she starts her campaign.
Or, this "line" could involve Diane (side note: I love Christine Baranski so, so much). She also made an offer to Alicia in the season finale, but this one involved a partnership and lots and lots of money. She's willing to bring fifteen boatloads of money to the table — $38 million, to be exact, and enough to buy a actual fleet of boats. Now, that's a line, and on the other side of the line, the grass is really, really green. This is the most logical "line" to be crossed, because the trailer basically gives away the fact that the firm becomes Florrick, Argos, and Lockheart... oh my.
But what about Finn? We get a quick second of him raising a glass with Alicia and while we've been promised that Alicia and Finn won't become a "thing," I'm betting that's a clever evasion — just like Alicia's continual insistence that she won't run for State's Attorney. Maybe this line is Alicia crossing over from business to pleasure.
The point is, whatever the episode title refers to, something is going to get crossed and change everything. Last season shook up the foundation of The Good Wife and everyone is still dealing with those ramifications. Obviously, things can only get more complicated from here. In closing, I've wanted to make a Thin Red Line/Walk The Line joke this entire time, and I can't figure out how to so if you can think of one, let me know.
Image: Jeff Neumann/CBS