The Only Reason You Need to Fly British Airways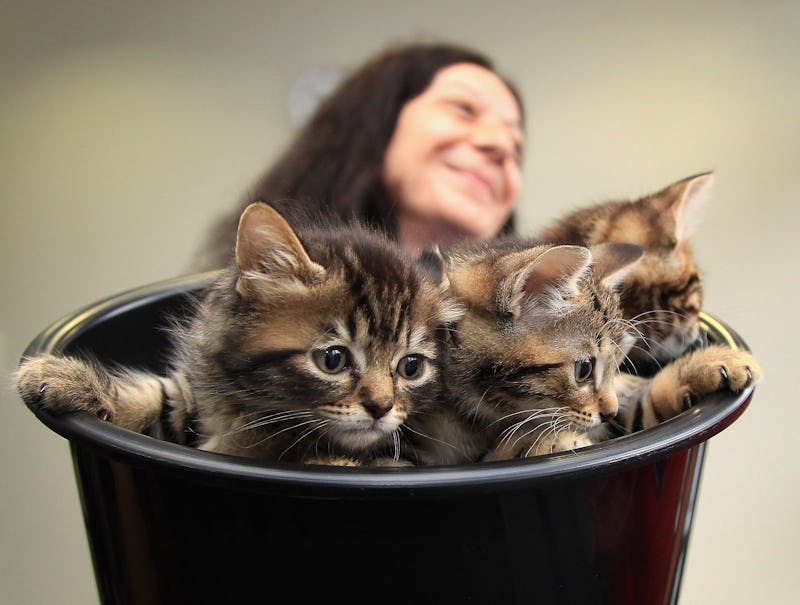 Chris Jackson/Getty Images Entertainment/Getty Images
I'm not particularly loyal to any one airline; generally I fly whichever one will get me where I need to go for the least ridiculous price. But one airline may have just pushed ahead in the great race for the title of Best Airline on the Planet: In an effort to help their passengers chill out, British Airways just launched a "Paws and Relax" channel as part of their in-flight entertainment. In case the name wasn't a dead giveaway, Paws and Relax will feature an endless succession of footage of adorable puppies and super cute kittens.
You guys? I want this everywhere. On planes; on buses; on the subway; in my house; everywhere. Because it is the single greatest idea I have ever heard.
Speaking to the Telegraph, BA in-flight entertainment manager Richard D'Cruze said, "It might sound barking, but there's loads of research to suggest that watching pets can enhance overall wellbeing. We have sniffed out some fantastic content that is cute, comforting, and sure to appeal to travelers of all ages." (P.S. We see what you did there, Mr. D'Cruz.) And he's right! A 2012 study found that looking at cute pictures increases productivity; another one conducted earlier this year found that funny cat videos and other humorous images give us the same awesome feeling as meditation; and so on and so forth. The benefits are endless.
The best part, though? A lot of the animals that will appear on the channel are from the Battersea Dogs & Cats Home. Alfie the Pug, Sky the Siberian Husky, kittens Karma, Knight, and Karis, and more are all looking for forever homes — so if you fall totally in love with them or one of their Paws and Relax buddies, guess what? You can adopt them! Everybody wins!
In addition to the footage of all those adorable rescue pets, Paws and Relax will also air episodes of the cat cam documentary show The Secret Life of Cats, America's Cutest Dog, and the animated YouTube series Simon's Cat. If you've never experienced the wonders of Simon's Cat, here's the latest episode:
As an owner of two cats, I can tell you with absolute certainty that this depiction is entirely, 100 percent accurate.
Anyhoo, check out the preview of BA's Paws and Relax channel below. Now if you'll excuse me, I have a few flights to book.
Image: Giphy