Does 'Married With Children' Even Need a Spinoff?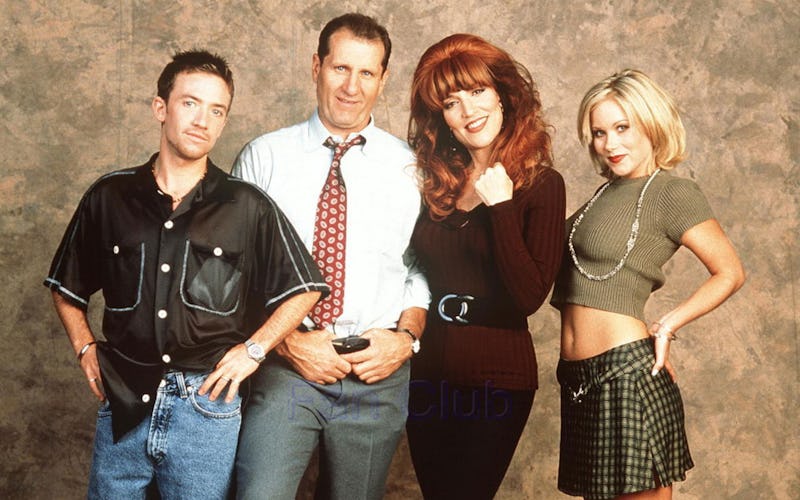 Today in "unnecessary projects Hollywood is trying to put together just to play on people's nostalgia factor" news: According to multiple sources including E! Online and The Hollywood Reporter, a Married...With Children spinoff following David Faustino's Bud Bundy character may be in the works. Yep, that same Married...With Children that ended 17 years ago, and was a fixture of '90s television might be coming back in spinoff form, even though it is definitely no longer the '90s and spinoffs of beloved shows and films from previous decades are often times just weak attempts to get ratings. When you think about it, this might explain that all-too-convenient cast reunion that took place recently in Hollywood.
Apparently, the idea is just in the process of being pitched (in other words, there are no real details yet), but Christina Applegate reportedly had this to say of the possibility during the Married...With Children reunion on the Hollywood Walk of Fame: "We're going to do something with Dave maybe. I don't know if it will be in character...But I don't really know. I don't know what that's going to be. I don't know if I'm allowed to speak on that at all. So I should probably stop talking about it right now!"
Honestly, even though I understand the thought process behind bringing a show like this back for a spinoff (especially when you consider it would be starring the only cast member of the show who didn't exactly go on to have a busy career), this just feels contrived. It's been 17 years since Married...With Children ended, and that show is quintessential '90s — the humor, the clothes, the plotlines, literally everything about it is firmly rooted in the fact that it was taking place during that specific decade.
It's difficult to see how any qualities of the show would translate if the spinoff did indeed follow Bud Bundy as a character — and if the qualities didn't translate, it would just end up being a completely different show where a character happens to have the same name as Bud Bundy.
It just doesn't seem like it makes sense to do something like this — it's too gimmicky.
While it doesn't remain clear whether or not this idea will actually go anywhere, let's be real: It probably will, because this is Hollywood, and reboots are its thang du jour.
Image: Sony Picture Television