This 'Sherlock' Blooper Is Priceless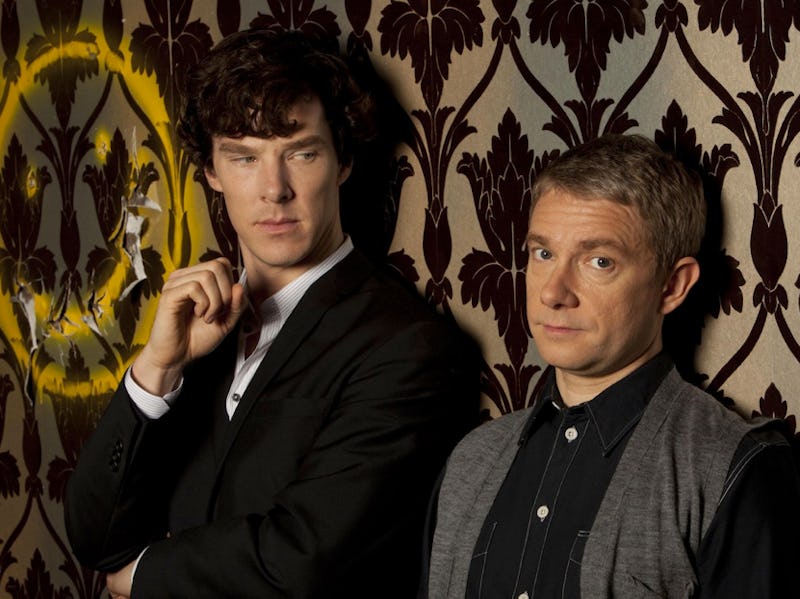 For some reason, Thursday seemed to be the day for the delayed release of bloopers involving Benedict Cumberbatch. I ain't complaining, let me tell you. We were treated to the Sta r Trek Into Darkness gag reel earlier, which eased some of the remaining sting over the movie's puzzling title punctuation. Now we've got Cumberbatch and Martin Freeman making each other laugh in this Sherlock blooper. Bless. Bless it all.
Cumberbatch and Freeman both took home Emmys recently for their work as the central duo in Sherlock — though tragically neither were their to dazzle audiences with their acceptance speeches. Let them begin to make up for that absence with this small peek into the behind-the-scenes revelry of the Sherlock set.
"I thought you knew every actor over 50," Freeman says to Cumberbatch. Buuuuuuurrnn, I think?? He follows that with "I thought there was a bylaw," which sounds like one of the most British things ever said when coming out of Freeman's mouth. Who says bylaw??
These two make up the two halves of one of pop culture's all-time favorite pairs, so it's only fitting that they get on well off-screen as well as on. Can you imagine how depressing it would be if they couldn't stand each other? Blasphemy.
Image: BBC