Jennifer Aniston Does Gritty Dramas Awesomely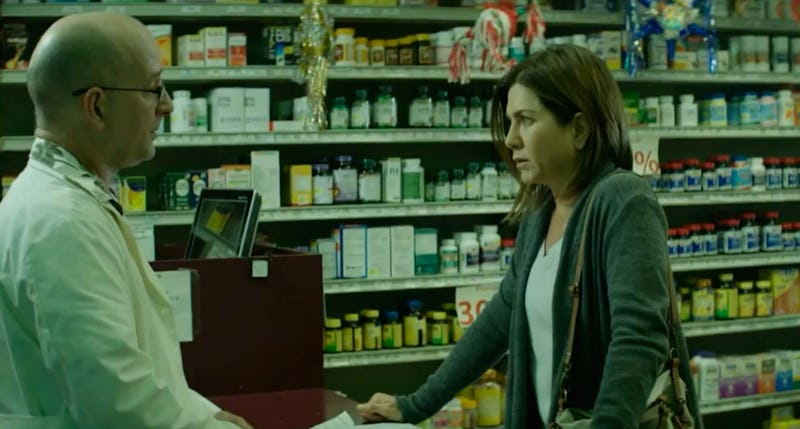 It's no secret that Jennifer Aniston is a versatile actress, but it's clear that it's never going to be more apparent than when her upcoming film Cake hits theaters. Written by Patrick Tobin, the film stars Aniston as Claire, a woman looking into the death of a friend from her chronic pain support group (Anna Kendrick), and using the investigation as means of dealing with her own chronic pain that she was left with after a car crash. It's clearly different from any film Aniston has ever done (in a good way), even down to her character's appearance — the normally glamorous Aniston has been dulled down for the role to better fit the look of someone addicted to pain meds suffering from chronic pain, and the changed appearance is just one indication of how deeply it seems she got into the role. Another indication: This clip from Cake , featuring Jennifer Aniston's character attempting to buy illegal drugs in Mexico to help her deal with her condition.
It's a short clip, clocking in at about a minute and a half, but it's enough to raise intrigue for the film. Also starring in Cake alongside Aniston and Kendrick are Sam Worthington, Chris Messina, and William H. Macy.
Check the clip below. Unfortunately, Cake doesn't yet have a theatrical release date, but it did premiere at the Toronto International Film Festival recently to a standing ovation...so, I'd say, expect one soon.
Image: After Dark Films