5 Clever Ways to Disguise Your Dirty Laundry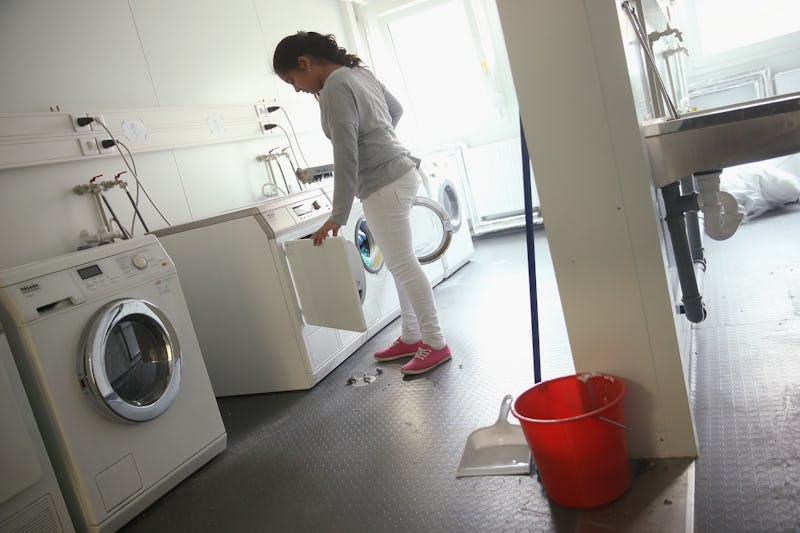 Sean Gallup/Getty Images News/Getty Images
Let's face it. Sometimes, despite our best efforts, life can get a little messy. Even though you swear you just did three loads of laundry last weekend, there's suddenly a mountain of dirty clothing that must have materialized out of thin air taking up space on your bedroom floor. Clutter accumulates faster than you can put it away, and that garbage really isn't going to take itself out.
If you have people coming over to hang out, chances are, you're not going to be proud of that massive pile of laundry you've crammed inside the laundry bin. Or, your overflowing wastepaper basket that has a ton of scraps from your last project. Or, that full trash bag that needs to be taken outside. That's when it's time to get creative.
Luckily, there are a few options to beautify the less scenic aspects of human living, including fabric appliqué, patterned wallpapers, and paint, among others. Because while you can't get rid of the mess completely (laundry baskets and trash cans will always be a part of life), you can at least make it a little less noticeable. Here are a few tricks you can use to disguise the unsightly things you'd rather your friends didn't know about.
1. Adhesive Wallpaper
For a quick fix, you might want to pick up a few decals the next time you're at the craft store (or order them online). CB2 actually makes blank adhesive wallpaper so that you're free to customize the art on the outside — sort of like a giant sticker. Simply lay out some newspaper to catch any drips, prime the outside with a primer like Kilz, and paint away with Japanese acrylic ink, latex or acrylic paints. When finished, you can easily trim it to fit the size of the bin or laundry basket you're looking to hide — as long as it's a smooth, primed surface it will stick.
You can also buy already-decorated adhesive wallpaper, though that can be more costly. The good thing about adhesive wallpaper is that you can remove it at will, and hey! If you decide to decorate your bin with it, you could camouflage the bin against the wall.
2. Fabric or paint
Another option: use patterned fabrics or paint to do the job. Blogger Charming Zebra recommends cleaning the bin, priming it, and then applying a favorite patterned fabric (easily found at craft stores like Joann Fabrics) with spray adhesive. Once the fabric is applied, use a razor to cleanly cut the excess from the bin. In a matter of minutes, you have a designer trash can! Using fabric can also be helpful to decorate laundry hampers, as can paint. A Beautiful Mess gives us this handy tutorial to instantly transform an old wicker basket using a little duct tape and spray paint (pictured above).
3. Stencils
Let's say you're not sure about the hassle of cutting or trimming anything to customize your bin. If you're not feeling too crafty, you can always paint a layer on the outside of the can or bin, and then use spray paint and stencils to pattern the outside. It might even turn out like Etsy seller Bella Vintage's French-themed hamper (pictured above) did.
4. Storage
Now that you've decorated your bin, you need to figure out where to place it out of sight. If you don't have a desk or small table that you can easily slip your can or bin under, consider putting your can on the bottom shelf of a bookcase (if it will fit) or underneath a side table. If it's a trash can and you can fit it in the cabinet under the sink, do it.
5. Cover up smells
Sure, it's out of sight, but that doesn't mean you can't still smell it. For an easy way to cover up terrible smells, use a potpourri pouch at the bottom of your laundry bin. This muslin heart pouch by Paper Mache Collection on Etsy (pictured) is especially cute. For trash, you can Febreeze it if it's not quite full, or just suck it up and take it out.