A 9/11 Mystery Was Just Solved, And It's Wonderful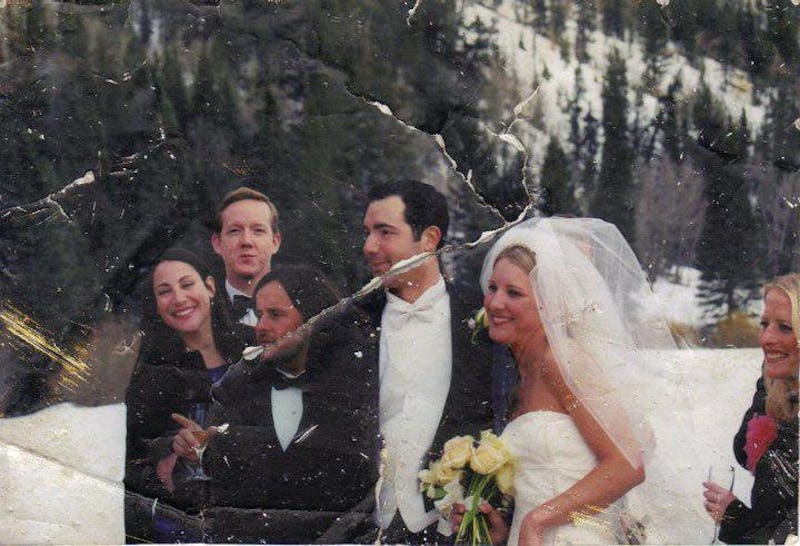 Prepare to feel all the feels: every year, on September the 11th, a woman posts a wedding photo that was found amidst the destruction of the World Trade Center on 9/11. For 13 years, she's been looking for the people in the picture — until last night, when the owners of the mystery 9/11 wedding photo were found, thanks to a heartwarming mega-effort on social media (and the help of a fairy godmother, in the form of country singer Blake Shelton). Cherry on top of the deliciously happy cake? All the people pictured were alive and well.
The photograph — which shows six people, including the happy couple, standing in front of a snowy mountainside — came into Elizabeth Stringer Keefe's possession in October of 2001. Her friend, who was moving to California, had found it in the rubble at Ground Zero, and wanted it taken care of. As Keefe told Mashable:
It's a beautiful, joyful moment captured in time and it was such a contrast to what I saw at Ground Zero, which was still burning when I was there.So, if it had a relationship to 9/11, I wanted to keep it safe until I could return it to its owner. There's so much beauty and happiness in the photo that I just felt committed to the task.
And she certainly proved herself dedicated: according to Business Insider, every year, on the anniversary of the terrorist attacks, Keefe would try to find the owners of the wedding photo by posting it online. To mark ten years since the tragedy, in 2011, she put the picture up on the 11th of each month, for the whole year. But in spite of this, she'd had no luck — until this Thursday, that is, when it all changed.
Thanks to being featured on a Boston blog called Universal Hub, her story — and the picture — suddenly went viral. The Reddit community got involved, using their notorious tenacity to scour 9/11 obituaries for any similarities to the people in the photo. Her Tweet got retweeted tens of thousands of times. In fact, even if she hadn't found the owner, the story still would have been uplifting; whether they were making suggestions or just thanking her for the gesture, other users were inspiring in their responses. One said "Wow, Ginger, Blake and I both admitted to crying over 9/11 remembrances. This is extraordinary. Touched."
Then, the miracle: country musician Blake Shelton got involved. His retweet meant that over 7 million of his followers saw the picture, and that synched the case. Shortly after, Keefe tweeted what has to be one of the happiest messages to ever hit the Twittersphere: "Attention wonderful world: ALL SIX PEOPLE ARE ALIVE AND WELL AND I HAVE JUST SPOKEN TO ONE OF THEM!!!!!!!!!!! #Happyending #911photo." She'd called the groom — Fred Mahe — on Friday. Though at one point a New York resident, he currently lives in Colorado.
How's that for a Saturday pick-me-up?
Images: Getty Images