5 Starbucks Treats That We Miss In a Big Way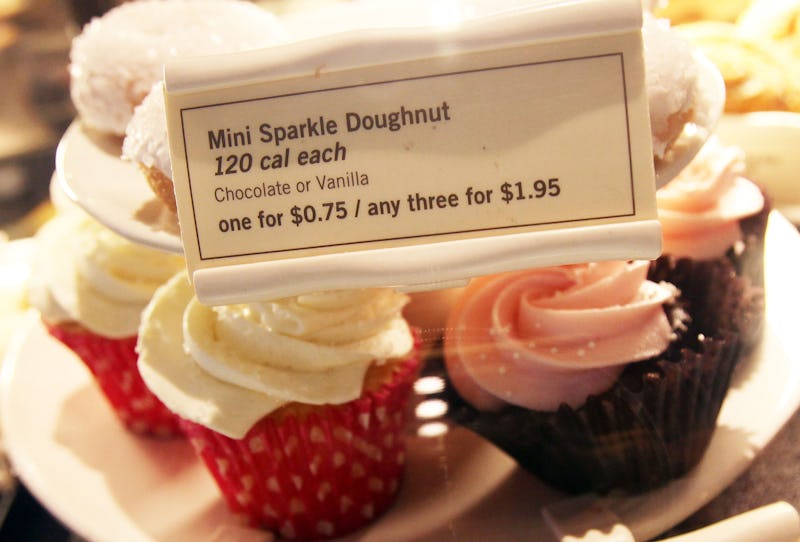 Mario Tama/Getty Images News/Getty Images
Watch out, Starbucks, big fast food is coming for you. Not only has McDonald's created its own pumpkin spice latte, but it's also angling to become your new favorite coffee shop in other ways, according to Fox News. It's selling specialty coffee drinks, bagged beans, and pastries in some markets. But can it surmount The Bux?
This news comes over a year after Starbucks struck a massive, $100 million deal with Bay-Area bakery La Boulange, and we watched in curiosity as our classic Starbucks treats were swapped for bite-sized pastries in light pink to-go bags. Having for years been accustomed to the same food-coffee combos (pumpkin spice latte and pumpkin scone, peppermint hot chocolate and cranberry bliss bar), I was skeptical, but I still gave La Boulange a chance.
Well, more than a year has passed since its launch, and my patience has officially run out. I miss the old pastries, and other Americans may feel the same — Starbucks stocks have dropped by 5.6 percent this year.
McDonald's appears to be looking to capitalize on this decline in Starbucks profits. Before, La Boulange had the advantage of presenting a "healthy" option for its customers because its pastries have fewer calories. But McDonald's new bundt cakes are only between 160 and 180 calories, compared to the 420 that are in a Starbucks blueberry scone.
Which leads me to my desperate plea for Starbucks to bring back the old pastries we know and love! If the company wants to compete with McDonald's's expanding breakfast selection, they're going to need to backtrack and say "in with the old, out with the new". Although Starbucks has already started to re-introduce previous items like their banana, lemon, and pumpkin loaves, I have a small suspicion that most customers won't be satisfied until the La Boulange pastry case is replaced with all of our old favorites. Here are a few I'd like to see back in stores (be prepared for pangs of nostalgia):
1. THE CLASSIC COFFEE CAKE
I never thought I'd say it, but I miss the days when I would eat this in the car and then be covered in crumbs for the rest of the day.
2. THE MAPLE SCONE
Pure sugar. Pure deliciousness.
3. THE CINNAMON CHIP SCONE
Just because you've brought the pumpkin scone back, Starbucks, doesn't mean you can leave out the cinnamon chip!
4. THE CLASSIC BLUEBERRY MUFFIN
La Boulange's Blueberry Yogurt Muffin with Honey, which sounds good in theory, is a poor man's substitute.
5. THE SNICKERDOODLE COOKIE
A favorite after-school snack of mine in grade school. RIP.
Even though we've been mourning the absence of these delicious treats, we shouldn't lose faith just yet. If Starbucks is willing to bring back some of our old favorites, then it's only a matter of time before I can have the Classic Coffee Cake back in my arms again, right? Until then, though, I'm tempted to cheat and try one of McDonald's mini bundt cakes once they're in a store near me. Starbucks, you've been warned...