What Happens When You Ask People To Draw Vaginas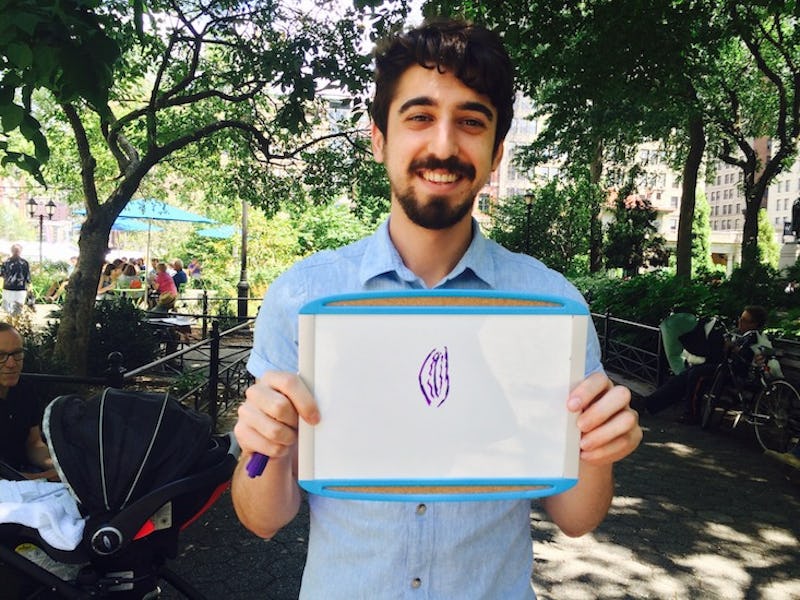 About a month ago, Bustle reported on an awesome new Tumblr, Gay Men Draw Vaginas. The Tumblr is exactly what it sounds like — it asks gay men to draw vaginas, and posts the results. The project started when founder Shannon O'Malley asked her friend Keith Wilson, a gay man, to draw a vagina on the tablecloth when they were having dinner. The rest was history.
The implicit joke to the Tumblr, of course, is What would a gay man know what a vagina looks like? As the Tumblr reveals though, sometimes, the answer is more than some women and straight men do.
Because we were curious, we sent our brave Bustle intern, Courtney Laermer, into the streets of New York City to ask women and men alike to draw her a vagina. We wondered: Would we see any difference between female and male depictions?
The results, as it turned out, were mostly hearteningly normal. While some women and men took a more artistic approach, many got right down to business and dropped some illustrated diagram knowledge — labia majora and all.
And if you think the male drawings seem less accurate, just know this: We didn't ask if the guys were gay or straight.
ADDIE, 16
CHARILYN, 21
CAITLIN, 22
ALAINA, 24
TINA, 16
SYDNEY, 23
HANNAH, 26
KATELYN, 16
LIZ, 24
RACHEL, 20
J, 24
HANNAH, 18
AUBREY, 22
AMISHI, 20
SARAH, 16
SOBRAYA, 29
NICOLE, 25
ELLISE, 26
GRETA, 15
MADDY, 25
ELIZABETH, 21
And now for the men...
Luis, 17
Jared, 24
Ernest, 22
Itamar, 27
Ryan, 30
Suad, 21
René, 27
Jonathan, 15
Yonas, 22
Roy, 24
Guallaume, 28
Rafael, 20
John, 23
Marty, 16
Rafael, 24
All in all, more informed than we expected.
Images: Courtney Laermer