You Can Buy Jodi Arias' Glasses On eBay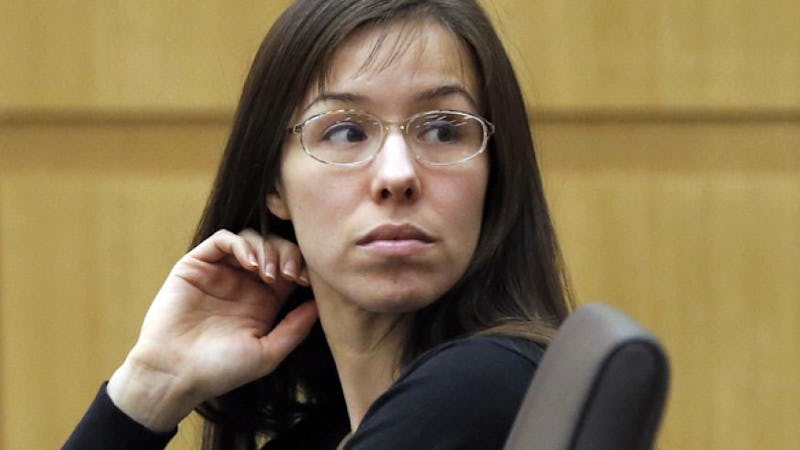 Did you watch the Jodi Arias murder trial thinking, "Man, if only I had those glasses?" I didn't think so. But the convicted murderer seems to think there's at least one person out there coveting her spectacles. Ahead of her penalty phase retrial, Jodi Arias is auctioning off her trial glasses on Ebay, promising to donate the profits to an unidentified nonprofit. Believe it or not, this is not the first time Arias has taken to Ebay since being charged and convicted of first-degree murder, but it's still no less perverse.
Arias, who was convicted in 2013 of killing her live-in boyfriend, is returning to trial this month because the jurors couldn't decide on the sentence. While her murder conviction still stands, the court will conduct a penalty retrial. She faces either the death penalty or life in prison.
In early August, Arias was given permission by the judge to serve as her own lawyer during the penalty retrial phase. However, Arias has since waived her right to serve as her own attorney, and will now use court-appointed lawyers. So, what a better way to prep for your retrial than auctioning off the personal apparel you wore when you were convicted of first-degree murder? According to Arias' auction page, this is your chance to "own a one-of-a-kind piece of history."
Arias is starting the bidding on her famous specs at $500. The auction began the night of Sept. 14, and will continue through Sept. 24. The auction page claims 100 percent of the proceeds will be donated to a Phoenix-based nonprofit, but the organization has yet to be identified.
There is one catch of the auction: Bidders must place a $250 down payment via PayPal in order to legitimately participate. According to the auction page, this is meant to weed out "less desirables and time-wasters." But don't worry — if you don't win the auction, you'll still get your $250 back.
During her trial, the Arias-Ebay partnership generated some controversy when Arias supporters — yes, there are some — started auctioning her artwork on the online store. The drawings and paintings were reportedly done while Arias was in prison awaiting trial. In January 2013, her colored pencil-and-cardboard pieces raked in more than $1,000.
A lifelong painter, Arias had been selling her artwork online before she was convicted of killing her boyfriend. Her work has continued to sell long after she was convicted in 2013, and in last October, her website announced it was offering a limited-edition run of one of her best prison pieces, "Sailing at Sunset."
According to her website, Arias' artwork ranges in price from $25 to $8,700. It's still unclear who's running her website and her latest auction, as Arias doesn't have access to cell phones or computers in prison.
She can assure you, though, that her artwork is authentic, certifying each piece made in prison with her right thumbnail. As for the authenticity of her glasses? Well, you'll just have to bid to find out.
Images: Jodi Arias