Miss Nebraska's More Than Her Wardrobe Malfunction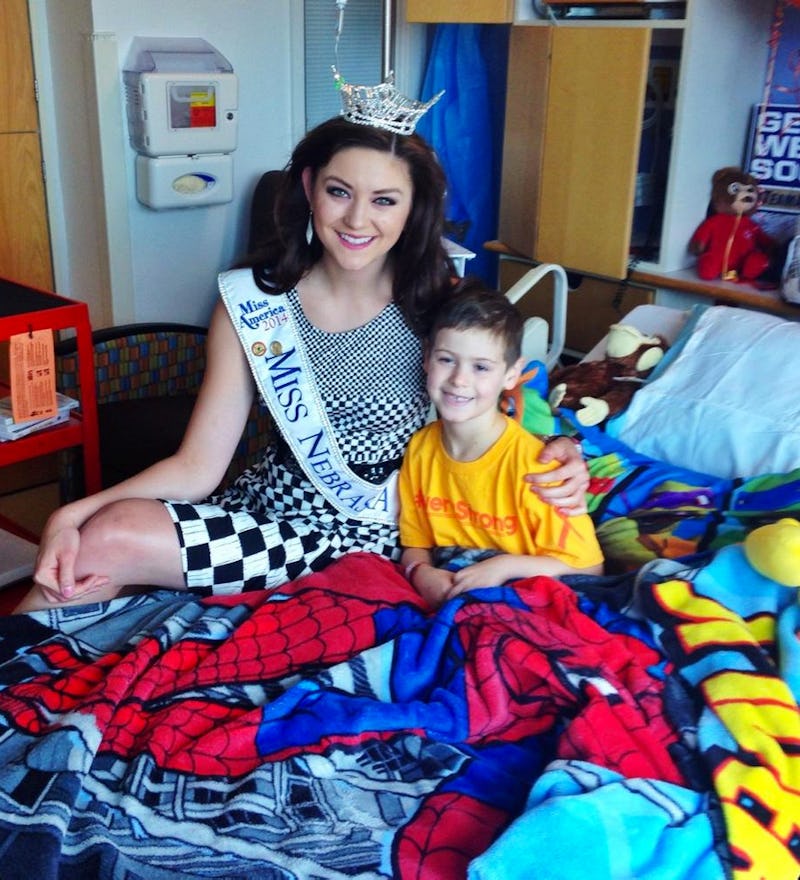 During Sunday's Miss America pageant, Miss Nebraska accidentally flashed her underwear when she leaned over to say something to another contestant. Unfortunately, this moment was caught on camera. She immediately became a trending topic online not for het talent or interview answer, but for her wardrobe malfunction. It seemed that everyone on Twitter was posting screenshots the unfortunate photo, re-humiliating Megan Swanson all over again. The worst part is that now she's going to be remembered for a one second mistake, and not all the good she's doing. If you Google her name now there are a hundred articles on her flashing the camera, and hardly any on what she actually stands for.
As with all Miss America competitors, the women run on a platform of inspiration, change, philanthropy, and more. Miss America is a scholarship foundation and as such the competitors are usually actively involved in education, especially education for young women. It's actually a pretty worthy organization, and therefore Swanson has quite the resume built up. She played basketball in school, went to college to study music, and now she works with children on health and fitness of body and mind.
Miss Nebraska is so much more than her wardrobe malfunction, so here are 5 things you should know her for instead.
SHE'S BEEN SINGING AND PLAYING GUITAR SINCE SHE WAS TWO
Her dedication to her craft is what lead her to pursue music in college — and she's good.
SHE'S A S.T.E.M ADVOCATE
Swanson champions the effort to get people engaged in science, technology, engineering, and math. Having a female role model who supports these kinds of fields is incredibly important as our country's young women grow up. It's nice for them to see you can be engaged in S.T.E.M activism and also be feminine. It's not one or the other.
SHE'S SUPPORTIVE OF HER FELLOW CONTESTANTS
Again and again she was asked the best part of participating in the pageant and her answer always went back to how wonderful the rest of the women in the competition were. She wrote on Instagram, "They constantly encouraged, fortified, and strengthened me, while making me laugh hysterically pretty much 24/7!"
SHE ADVOCATES TOTAL BODY WELLNESS FOR KIDS
Her biggest campaign is for the health and wellness of your inner and outer self. She wants to bring a message of confidence to children and help them understand that "who you are as a person is so vital to your entire total body wellness."
SHE MENTORS YOUNG WOMEN
And she adores her job. She captioned this photo, "I'm in love. They make it so easy to want to be Miss NE. :)"
SHE'S GRACIOUS
It's these things people should focus on instead of her underwear.
Images: Megan Swanson/Twitter; Megan Swanson/Instagram (4)