12 Things Not To Say A Recovering Addict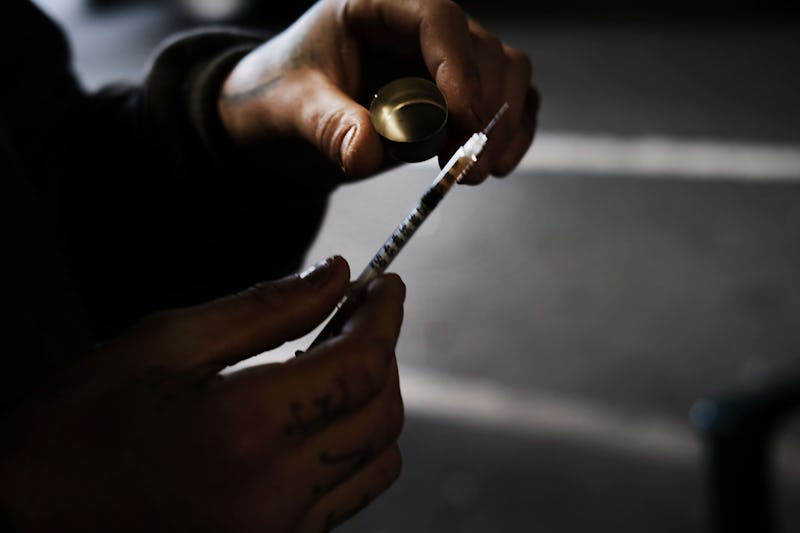 Spencer Platt/Getty Images News/Getty Images
When I found out my ex-boyfriend was in jail for drug possession, I wasn't really surprised. He had, since college, gotten deeper and deeper into drugs and alcohol addiction. It was the reason we'd broken up.
I had hated myself for abandoning him, but I realized then that he wasn't ready for help, and that no amount of pleading on my part was going to change that. He either needed to make the decision on his own, or wait until the law did it for him. In the end, it was jail that finally sobered him up. Drug tests by his parole officer keep him that way.
Through the letters we exchanged when he was incarcerated and the weekly conversations we have now, I've learned how to talk to him about his addiction. I've learned how to find a balance in what's OK to talk about, and what we need to avoid. I'm no expert, but from my personal experience and advice from professionals, I'm doing what I can to be a good friend to him.
It's not easy to talk to an addict. You want to be supportive and honest, but you also need to keep things to yourself. I can ask him how he's doing, but I can't probe into how hard it is to stay clean, because I never know how he's going to react. I talked to psychologist, Dr. Jennifer L. Hartstein, about how to talk to those in recovery to learn what's off limits, what the trigger words are, and how to show that I have his back.
"The key thing to remember with someone in recovery is that they are struggling to make positive changes in their lives and would benefit most from validation and encouragement, not judgment and demands," Harstein tells Bustle. "That doesn't mean we shouldn't have expectations of those in recovery, but we need to be sensitive to the rawness of emotion they are experiencing that they may have been covering up through substance use. If we can step back and work to support, there can be greater success."
September is National Alcohol And Drug Addiction Recovery Month, which means now is a good time to brush up on how to talk to someone suffering from addiction. If someone you love is recovery from drug or alcohol abuse, here are the main things you want to avoid saying to them.
I FEEL REALLY BAD FOR YOU
They don't need you to feel bad for them. They have enough to deal with without your feelings and pity being piled on to the mix. Instead, Harstein suggests "I am imagine that things are hard right now. Is there anything I can do?"
DO YOU STILL HAVE A CRAVING TO GET HIGH?
Do you like it when someone brings up stuff from your past you'd like to forget? Instead, Harstein suggests "Cravings must be challenging to deal with. Do you want to talk about them?"
IF YOU CARED ABOUT YOURSELF, YOU WOULDN'T HAVE LET THIS HAPPEN
Addiction is a disease and guilt trips will only do damage. Instead, Harstein suggests "Substance use can really take over, making it so hard to take care of yourself."
IF YOU CARED ABOUT ME, YOU WOULDN'T HAVE DONE THIS
It's actually not about you. Instead try: "It's got to be challenging to feel so powerless and as if substances were all that mattered."
AT LEAST YOU'RE FINALLY DOING SOMETHING ABOUT IT
You may think you're giving support, but you're actually just belittling the recovery process, as if they were procrastinating when they were using. Instead, Harstein suggests "I'm really proud of you."
DO YOU THINK YOU'LL EVER USE AGAIN?
As Harstein notes, this is a fair question, but rephrasing it is even better. So instead: "What do you think might influence your using again? Can I help you problem solve to avoid it?"
REMEMBER, YOU'RE SOBER NOW. YOU NEED TO RESTRAIN YOURSELF IN SOCIAL GATHERINGS.
The sentiment might be correct, but they don't need a reminder. If anything, you could possibly push them back into it by making them resent you. Instead, trust them to make the right decision and offer your support in such situations, should they arise.
DO YOU WANT TO TALK ABOUT IT? HOW ABOUT NOW? HOW ABOUT NOW?
It's nice to offer, but they'll talk to you about it when they're ready. Don't pressure them. Instead, tell them you're there for them and you'll always be there for them no matter what they want to discuss. They'll know exactly what you mean, and you won't have made them feel like you backed them into a corner.
YOU SEEM ... DIFFERENT
Addiction changes people, and then recovery changes them again. Don't call them out on what might be different about them. Instead, point out how great it is that they're getting healthy. If there's something you like, that would be OK to comment on, but this comment is likely to make them feel self-conscious, like you're saying they're boring.
ARE YOU SCARED OF HAVING A RELAPSE?
Of course they are. So instead, assure them that if that happens, you'll be there to help them through it, free of judgment and noting the whole time that they're working so hard on their sobriety.
DON'T FORGET TO GO TO YOUR MEETING THIS WEEK
Checking in on someone may seem like a good idea, but it can also come off as being bossy. Instead, focus on how great they seem after their AA or NA meetings. Instead, Harstein suggests "I want to support your sobriety the best way that I can. How best can I do that so you don't feel like I'm intruding or telling you what to do?"
ONE DRINK ISN'T GOING TO KILL YOU
Maybe not, but, as they say, "First the man takes a drink; then the drink takes a drink; then the drink takes the man." Suggesting an addict use is not helpful.
Editor's Note: If you're struggling with addiction, you can call the 24-hour addiction hotline at 1800-447-9081. You are not alone.
Images: ReactionGIF(3); Giphy(9)