How Did Aaron Samuels Do on 'DWTS'?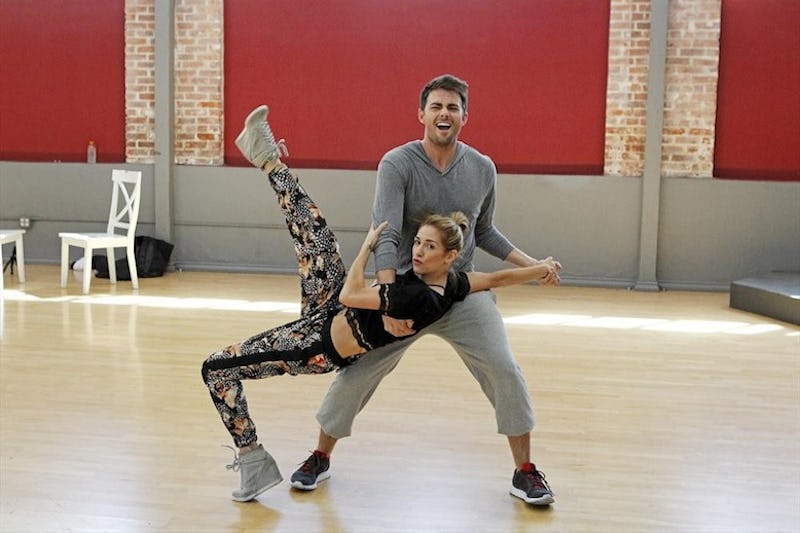 After a lot of anticipation we have finally seen Aaron Samuels on Dancing With the Stars and Jonathan Bennett is just as crush-worthy 10 years after Mean Girls. Best known for being the subject of Lindsay Lohan's affection in the movie, Bennett debuted a soft side on DWTS that will melt your heart. It turns out that his dad passed away just a few months ago and Bennett decided to do the show for him because it was his dad's favorite. "He'll be watching, just from another seat," the actor said looking up. I swear there were tears in his eyes. Or there might have been in mine, but either way it was emotional for everyone including Bennett's partner Allison Holker.
As for his actual dancing skill, he was pretty on point with his performance and also had a blast doing it. "That was the most fun I've ever had in my entire life," he told Erin Andrews with a giant puppy dog grin on his face. He and his partner got pretty good scores across the board garnering 30 points out of 40. Judge Julianne Hough even called his dancing "grool." ( Mean Girls will never die.)
Hopefully Bennett will be around to stay because not only is he talented, he's just plain adorable. Like, I don't blame Cady and Regina George for fighting over him because I don't know what it is about this guy, but he has the ability to turn women to mush whether he's talking about his dad or just asking you what day it is.
Keep on being so fetch, Bennett. We're proud of you.
Images: Rick Rowell/ABC; ipick