This Is The Coolest Eco-Friendly Denim Ever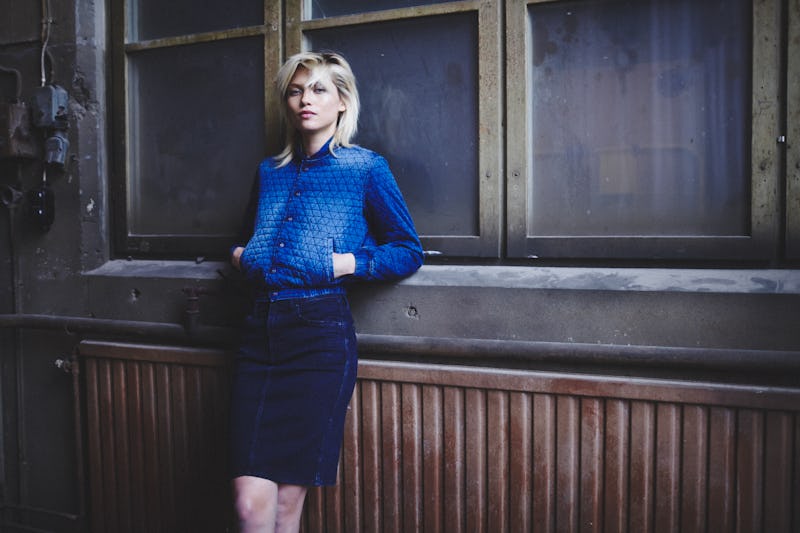 Have you been avoiding shopping eco-friendly fashion labels because they're too expensive, too hard to find, or both? Well, then, you've clearly never heard of H&M Conscious Collection, the stylish and sustainable line from everybody's most-beloved fast fashion retailer. You'd better start paying attention, because now H&M is launching Conscious Denim. Time to give your jeans an eco-friendly update!
The new line, to be released on October 2nd, will feature 40 pieces for women, men, and children including raw denim, jogger jeans, skirts, and jackets. There's even a jumpsuit! In true H&M fashion, everything will be affordable, with prices estimated at $20-$50. Not too large a price to pay for saving the world, eh?
So, what's H&M's secret to achieving more sustainable denim? It all comes down to fabric and production. The company used materials such as organic cotton, recycled wool, organic linen, and Tencel, a fabric made "with wood pulp from sustainable tree farms" and "created though the use of nanotechnology in an award-winning closed-loop process that recovers or decomposes all solvents and emissions," to lessen the environmental impact. When it comes to production, H&M worked closely with consultants from the research and development center Jeanologia to develop an energy-saving denim washing process.
"We've worked hard to reduce the environmental impact from the washing processes alongside using materials that are more sustainable," Helena Helmersson, H&M's Head of Sustainability, told Yahoo!. "The collection is full of great pieces, and proves how sustainability can equal great style." Based on the preview images, Helmersson is telling the truth about that. I'm particularly loving this updated quilted jean jacket featured in this twist on the Canadian tux, pictured below.
Although H&M is often lumped in with brands like Forever 21 and Zara when discussing the evils of fast fashion, the company has actually been recognized for efforts to increase the sustainability of their products. In fact, this past March the Ethisphere Institute named H&M one of the most ethical companies in the world. Each year the honor is bestowed upon brands who "understand the correlation between ethics, reputation, and daily interactions with their brand." Sounds about right!
If you want to support H&M's sustainability efforts, which you really should if you don't want our planet's future to look like this, then start saving up for Conscious Denim's release next month!
Images: Courtesy H&M