Is The Title of 1D's New Single Problematic?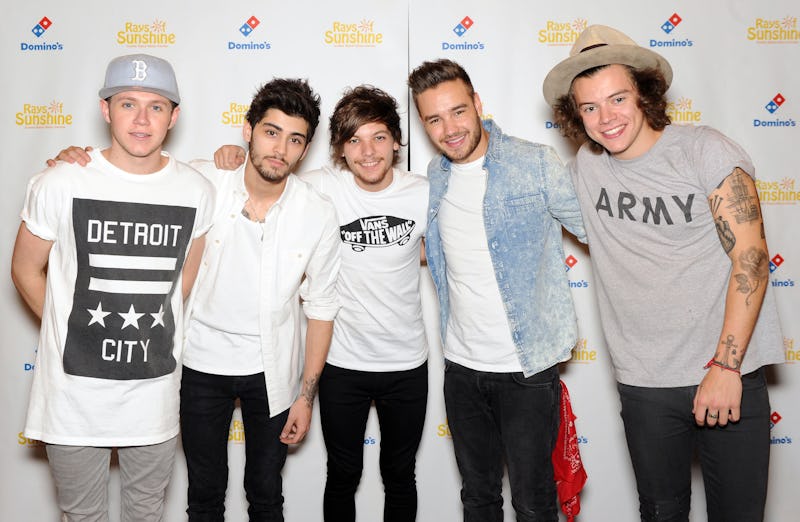 Stuart C. Wilson/Getty Images Entertainment/Getty Images
In some ways, it's a great time to be a One Direction fan. Last week, One Direction revealed that their upcoming fourth studio album, FOUR , will be released on Nov. 17, and on Sunday, the group announced that FOUR 's lead single, "Steal My Girl," will premiere on Sept. 29. I've been pretty excited about hearing new music from 1D for a couple of months now, so on the surface, this all seems like fantastic news — but I just can't shake the feeling that "Steal My Girl" is going to end up being a totally sexist disaster. Blergh.
It's very simple: Women don't belong to anybody. They're not objects that can be stolen. Why, then, would One Direction want to record a song called "Steal My Girl"? Billboard reports that band members Louis Tomlinson and Liam Payne co-wrote "Steal My Girl" with Ed Drewett, Wayne Hector, Julian Bunetta, and John Ryan (the last four writers worked together to create 1D's "Best Song Ever" in 2013), and apparently, not one of these six men thought that "Steal My Girl" was a potentially problematic title. That blows my mind. Since "Steal My Girl" was announced, people have been voicing their concerns about the song on Twitter:
Of course, there are also tweets like this one:
In the band's defense, I can understand how people might actually like being casually referred to as "my girl" or "my boy" by their partners. To some, it could feel like a powerful affirmation of a relationship — and that might be OK as long as their partners don't engage in any other possessive behavior. Additionally, I fully recognize that it would be foolish to completely condemn "Steal My Girl" based on its title alone — but that's not the only thing that's bothering me.
There's a rumor going around online right now that "Steal My Girl's" lyrics include the phrase, "She belongs to me." Yikes. There's no getting around it: Those lyrics are blatantly sexist. They objectify women. Keep in mind, this is just an unconfirmed rumor, but if those lyrics turn out to be real, I will be very, very disappointed. However, I sincerely doubt that their inclusion would have much of a negative impact on the song's popularity — and I guess that's what really troubles me.
Ask yourself: How many music industry executives heard the title "Steal My Girl" and didn't bat an eye? And if these rumored lyrics end up being legitimate, how many people on One Direction's team read them and didn't have a single alarm go off in their heads? It's baffling to think about.
Online rumors aside, at the very least, the title "Steal My Girl" is an example of the insidious, everyday sexism that pervades pop culture today. We need to become more aware of this kind of subtle sexism and use our voices to challenge it. Honestly, it's the only way that things are going to change.
I will reserve final judgement of "Steal My Girl" until I'm able to hear it for myself, but like I said, I just don't have a good feeling.