This NBA Fiction Longlist Is Jawdropping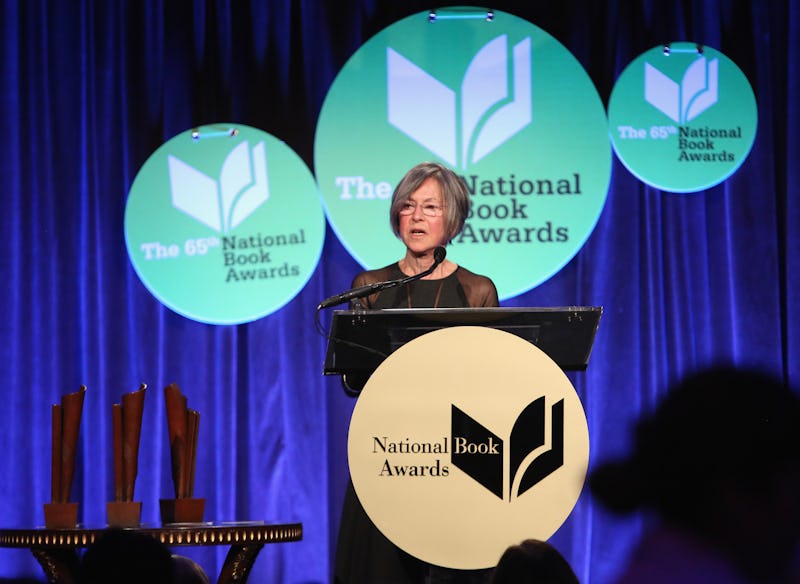 Robin Marchant/Getty Images Entertainment/Getty Images
If you're anything like me, here's the announcement you've been waiting for all week: the 2014 National Book Awards Fiction Longlist. (It leaked a day early on Wednesday. Oops.) And, oh, has it been worth the wait. Just take one look at the authors honored and you'll see why — it has names you'll certainly recognize (like Marilynne Robinson, Jane Smiley, and Elizabeth McCracken), as well as debut writers (like Molly Antopol, above).
What's that? Are you noticing something else? Yes, it's half women, which is great news, especially after Wednesday's abominable announcement of the National Book Awards Nonfiction Longlist, which only had one woman, Roz Chast, named to the list.
There's a lot that's great about this list, but putting it simply, it's wide-ranging, including novels and collections, and honoring authors at different points in their careers. Much on this list is serious — multiple books confront war in some form, for instance — but others have a sense of humor, too, and the judges have done a fine job picking books that all celebrate language in very unique ways. For a bit on each title, check out the New York Times ' blog announcement.
I have to give a high-five to the gents, too: I'm particularly excited to see Phil Klay's story collection Redeployment and Mountain Goats singer John Darnielle's Wolf in White Van given nods, too — they're two works with totally originally souls that are very deserving of their recognitions.
Here's the full list, as chosen by judges Geraldine Brooks, Sheryl Cotleur, Michael Gorra, Adam Johnson, and Lily Tuck:
Rabih Alameddine, An Unnecessary Woman (Grove Press)
Molly Antopol, The UnAmericans (W. W. Norton & Company)
John Darnielle, Wolf in White Van (Farrar, Straus and Giroux)
Anthony Doerr, All the Light We Cannot See (Scribner)
Phil Klay, Redeployment (The Penguin Press)
Emily St. John Mandel, Station Eleven (Knopf)
Elizabeth McCracken, Thunderstruck & Other Stories (The Dial Press)
Richard Powers, Orfeo (W.W. Norton & Company)
Marilynne Robinson, Lila (Farrar, Straus and Giroux)
Jane Smiley, Some Luck (Knopf)
So: Women! Story collections! Diverse subject matter! Debuts! Risk-taking books recognized! This is the good stuff.