Pucker Up for These Pooches!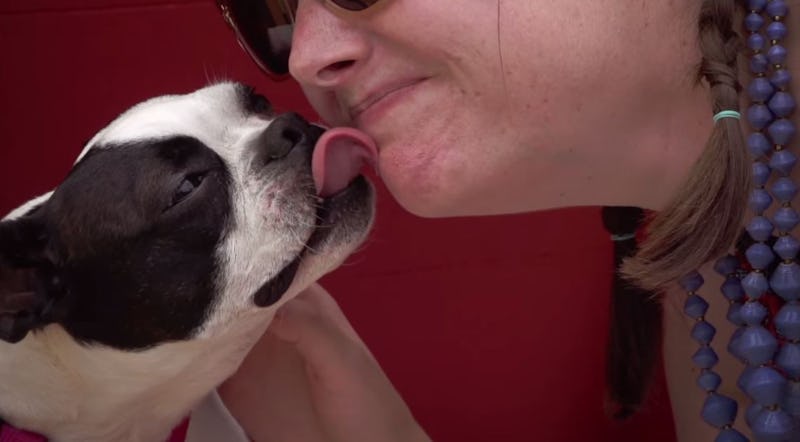 Kissing booths? Blech. Dog kissing booths? Awesome. Clearly I should have gone to the Indiana State Fair this year, because this adorable twist on an old (and somewhat outdated) tradition would definitely have made it worth it.
Ball State University teamed up with rescue organization Helping PAWS to bring the dog kissing booth to the state fair, with the goal being to raise funds and awareness for shelter dogs available for adoption. For a dollar apiece, fair goers had the opportunity to get slobbered all over with loads of puppy love — or to plant a smooch on one of the furry participants themselves. Rescue pups, an excellent cause, endless amounts of funnel cake in the vicinity… what's not to love?
And just to make a good thing even better, the BSU journalism department even filmed the whole thing. They've cut the footage together into a video called "Puppy Lovin'," allowing those of us who sadly weren't able to attend the fair to witness all that… well, puppy lovin' in magnificent slow motion. It's currently making the rounds — and with good reason. It's so cute. Trust me—if you're an animal lover, you're going to want to see it. Here, take a look:
Awwwwwwwwwwww.
According to BSU Journalism at the Fair, the Indiana State Fair closed on Sunday after achieving record attendance numbers during its 17 days of operation; here's hoping at least a few of those attendees went home with a rescue pup in tow. Helping PAWS is dedicated both to improving the lives of animals locally and nationally, as well as aiming to end pet overpopulation and neglect. For more, including info about rescues currently looking for their forever homes, visit them on the web at HelpingPawsOnline.com.
BRB, guys. I've just been filled with the overwhelming desire to snuggle my kitties.
Image: Ball State at the Fair/YouTube