Copy Grandpa Style With Teva x Woolrich Collab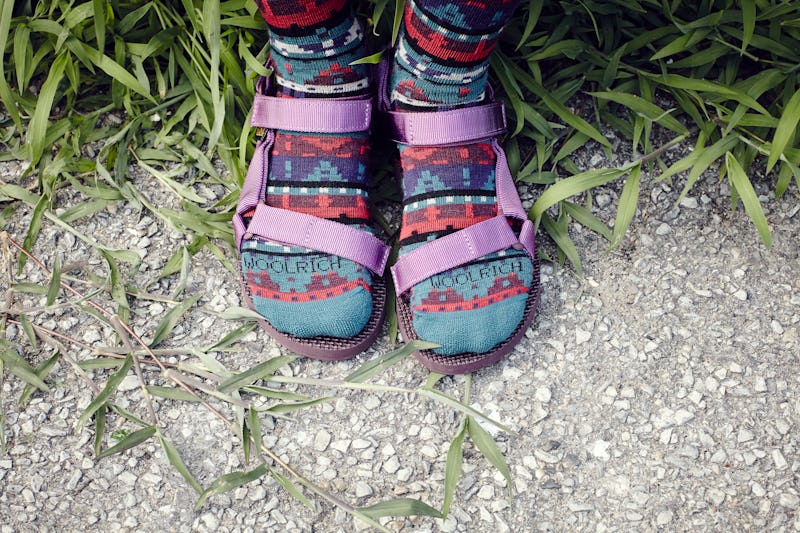 If you're familiar with my work here on Bustle, then you already know how much I loathe ugly-chic shoes. However, despite my protests, the terrible shoe styles (Birkenstocks, athletic slides, etc...) continue to climb the trend ladder all the way to the Kingdom of Cool-Land. They've been showing up everywhere, from the Spring 2015 runways to the the closet of the most effortlessly stylish girl you know. To my dismay, it appears they are here to stay. Now, Queen Bee ugly shoe brand Teva has partnered with Woolrich on a collection that ensures you'll be wearing your socks with sandals from now on. As a normcore-phobe, I'm truly terrified. However, the socks do look pretty darn cute.
The collaboration, which will be available for purchase on October 15th, includes an array of joyfully printed socks designed to pair well with Teva's latest collection of velcro-able sandals. Y'know, because socks and sandals are not just for grandpas anymore, as evidenced by Iggy Azalea's travel outfit from last month. It's true that these Woolrich offerings are too cool to keep under-wraps, although, in my allergic-to-velcro-shoes opinion, I think they'd look better peeking out over the tops of some ankle boots instead.
Wondering how you'll wear the now-chic socks and sandals look? Allow these photos from the Teva x Woolrich lookbook to be your guide.
How about on a stroll beside the river?
Or while casually dangling your feet over a marble wall?
And, of course, there's always the garden.
Okay, I'll bite — even I'm a little bit excited about the Teva x Woolrich launch. At least this look will keep my toes warm when the next Polar Vortex arrives.
Images: Courtesy of Teva