How to Cope Without Steroline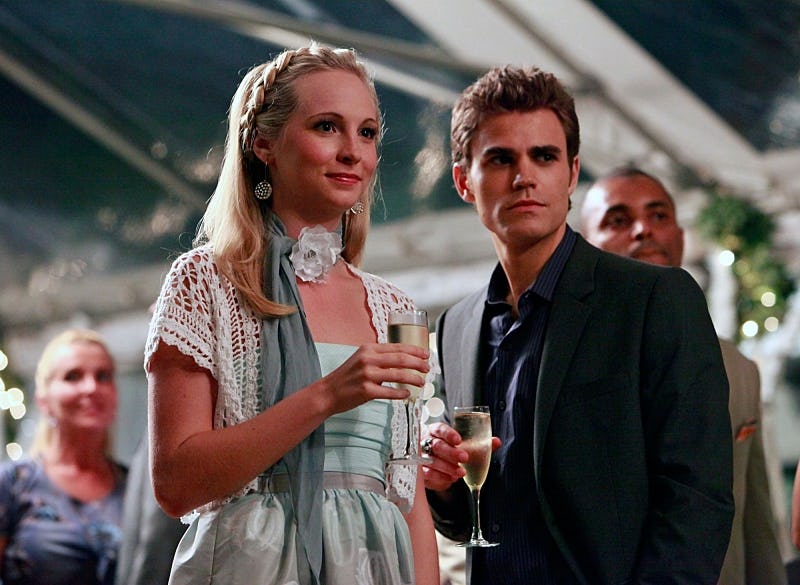 Even I, a proud Klaroline 'shipper, will miss these two when their relationship has crumbled. The Vampire Diaries Season 6 will premiere on Oct. 2 and there will be something big missing — Steroline in any capacity. After getting emotionally attached to their friendship and potential romance in Season 5, TVD fans are going to be heartbroken when this couple doesn't even pass go in the new season. On Tuesday, showrunner Julie Plec confirmed to E! Online that Steroline isn't happening in TVD Season 6 and furthermore, they won't even be friends. Which means that there isn't a single still-sailing 'ship on TVD anymore. How will we go on?
I'll admit, even though I was really pulling for Caroline and Klaus to ride off into the sunset, Stefan and Caroline's friendship grew on me. They were good for each other and they cared about each other and, even though Caroline had feelings for him, it never got awkward and uncomfortable. And, as much as I hate to admit it, their chemistry was on-point whether we saw it as loyal friendship or potential true love. So, obviously, there will be a gaping hole in Steroline's wake when Stefan screws everything up on TVD Season 6.
So, how do we deal with this news? This isn't the first time Julie Plec has disappointed us (cough Klaroline), so we should be able to survive this. Right? RIGHT? If you haven't started dealing just yet because you still can't get over the fact that Damon is dead, here at the seven stages of dealing with no Steroline from someone who's been there:
Stage 1: Denial — "JULIE PLEC IS TOTALLY TROLLING US. I DON'T BELIEVE IT."
It can't exist if I don't want it to. So, ha.
Stage 2: Affirmations — "THEY'RE SO GOOD TOGETHER. THEY WILL BE TOGETHER."
I mean, that chemistry doesn't lie. Right? How could Julie Plec let that go to waste? SHE CAN'T.
Stage 3: Boycott — "I'M NOT WATCHING TVD WITHOUT STEROLINE. SUCK IT, JULIE."
If you don't care about my feelings, then I don't care about TVD staying on the air. (JK, I'm totally going to watch anyway.)
Stage 4: Anger — "THIS IS BULLSHIT."
I have every reason to be angry about this so don't even try to make me feel better.
Stage 5: Dejection — "I DON'T EVEN KNOW WHY I'M CRYING. UGH."
I just have a lot of emotions right now.
Stage 6: Pity — "I JUST FEEL SO BAD FOR CAROLINE. SHE NEVER GETS THE GUY."
It's just not fair. I'm not OK with it. Caroline's a good person, she deserves so much better than this.
Stage 7: Retaliate — "I'M JUST GOING TO 'SHIP KLAROLINE NOW, WHATEVER."
If you can't beat 'em, join 'em.
Images: Quantrell D. Colbert/The CW, Rebloggy (2), klarolinekolfics/Tumblr, Wifflegif (4)