Is There Another 'Total Divas' Wedding Ahead?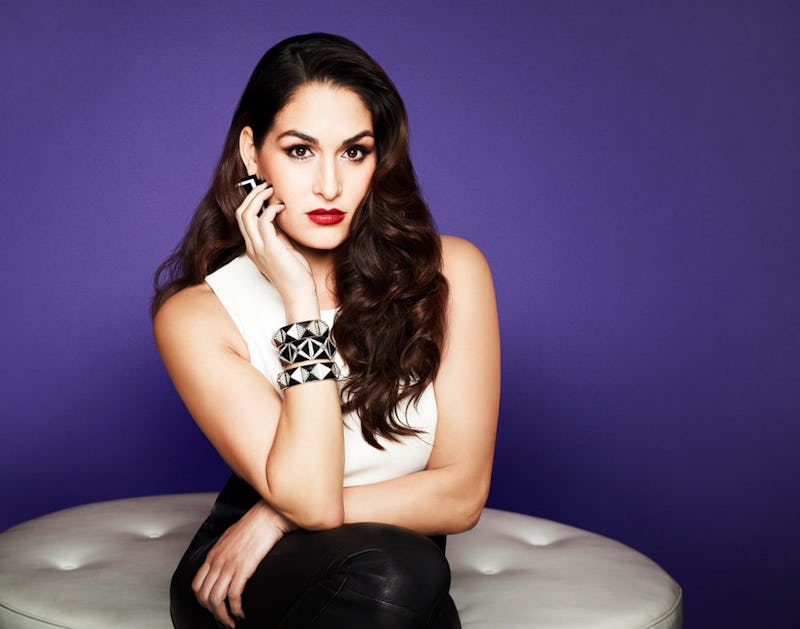 Things haven't been easy in the relationship ring for the staple couple of Total Divas , Nikki Bella and John Cena. In the past three seasons we've notably seen them deal with Nikki's secret first marriage. But they got through it, only for the couple to seem ready to call it quits when John revealed he never wanted to get married or have children. But this summer Nikki revealed in an interview with the The Daily Star that the couple had moved in together, adding "there's nothing better than to wake up next to the person you love every morning."
The question of kids has been the focal point for this couple at the start of season three. In the premiere, John asked Nikki a "completely hypothetical question." He then asked, "Let's just say, I were to ask you to marry me, and we get married. Is that enough?"
"That's not something you can just answer," Nikki responded, and she continued to struggle with the decision and John's reluctance to have kids when she discussed the issue with twin sister Brie. But Nikki came to the conclusion that she's seeing a positive change in John. "For him to even ask me the question about marriage just shows you that he's changing," she said.
Nikki's prediction seemed to be proven right in last week's episode. John found the hormones Nikki had to take to begin the process of freezing her eggs, just in case John never wanted to have kids with her. John revealed that seeing Nikki take his advice that he might not be the right person for her shook him. "It just occurred to me that I may lose you one day," he told her.
John tells Nikki he wants her to stick around, that he likes having her in his life. Nikki is happy John's learning to share his feelings, and agrees to stop the process of freezing her eggs if he wants her to. But she later admits to John that she's had a change of heart after playing with her nieces and nephews, and wants to go through with the process. John decides to support her decision, and volunteers to take care of her when she has to recover from the procedure.
This couple's story is clearly always changing, so maybe it's not that hard to believe that though the debate over having children has yet to be resolved, those wedding bells we hear faintly in the distance could start ringing louder and louder as this season progresses. The couple has yet to announce an engagement and none of Nikki's recent photos show her wearing a wedding ring, but maybe they want to surprise fans in the show's finale. Reality shows do need suspense, after all. But based on these tweets, it seems like the lovebirds are definitely heading in a positive direction, regardless of whether or not it eventually leads to marriage.
The couple that tweets together, stays together, right?
Images: Timothy White/E!; Getty