She Has an Optimistic Response to Nude Photos Hack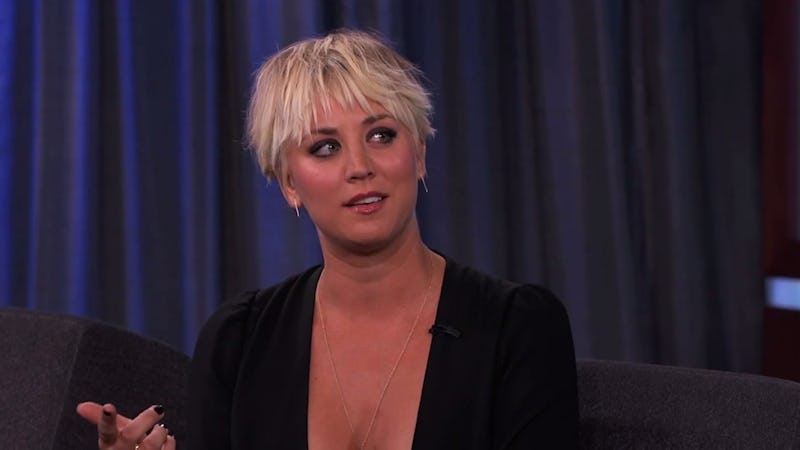 While it was an unbelievably major invasion of privacy and an absolutely terrible incident for all involved, it's nice to see those affected by the recent nude photo hack — which saw the public posting of stolen personal and nude shots of celebrities including Kate Upton, Jennifer Lawrence, and Mary Elizabeth-Winstead earlier this month — trying to move on and stay positive. Case-in-point: The Big Bang Theory star Kaley Cuoco-Sweeting, who responded to her nude photo hack on last night's episode of Jimmy Kimmel Live! in a light-hearted, joking way, because, as she says herself: "I took it in my own hands and made a joke about it, because what are you going to do?"
Cuoco-Sweeting explained that when she first found out the photos had been posted online, she immediately emailed her family to explain that, while the photos that were going around were in fact real, other rumors about her life in the tabloids — like, about pregnancy and possible divorce from hubby Ryan Sweeting — were not true. "I was able to get everything out in an email, which was great."
Cuoco-Sweeting also referenced the joking Instagram photo she posted after the photos were stolen, explaining that the rest of the Big Bang Theory cast helped her choose a paparazzi photo to put in the iPhone app Nudifier, which makes any chosen photo look blurred out for, well...nudity-involving reasons. "You've gotta make fun of yourself," she commented.
While, again, the theft was a terrible incident for all involved and is thankfully being dealt with by the proper authorities, it's nice to see someone involved like Cuoco-Sweeting making the genuine effort to brush it off and move on. Go, girl.
Check out the appearance below.
Image: Jimmy Kimmel Live/YouTube