Is 'Outlander' Heroine Claire Beauchamp Different In The Book?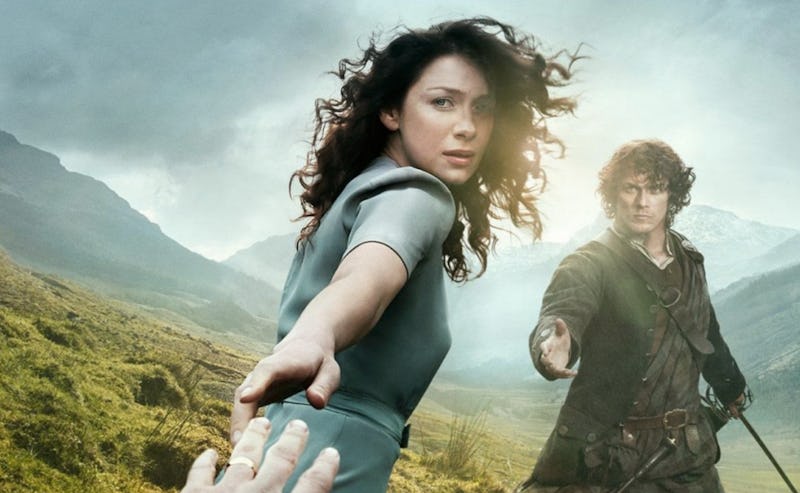 Starz
Usually, I'm the first to complain when a book I've read has been destroyed on film, but Outlander altered some of Claire's book scenes — and I actually prefer the TV versions. If anything has held completely true throughout both Diana Gabaldon's bestselling book and Starz's new hit series Outlander, it's that it truly doesn't have a genre to speak of. Claire Beauchamp is not your average, over-the-top romantic protagonist, but she isn't exactly a down and dirty Ana Steele-type either. Don't get me wrong, I'm sure she'll have us rooting for Jamie vs. Frank in the coming episodes, but this is girl will NOT be strictly committed to romance by any means. (At least not if they keep following the book.)
So far, the novel and the TV series are both a pleasant combination of romance, historic fiction, fantasy, and adventure geared toward both men and women. For the most part, Starz is doing right by the book in sequence, setting, dialogue and character. Novel Claire and TV Claire are equally charming, educated, stubborn and romantic, but that's not to say that everything else has paralleled from page to screen. And in my opinion, some changes were actually improvements.
Her Seemingly Adoring Relationship With Her Husband
The Starz series only briefly mentioned that the Randalls' trip to Scotland was primarily a trip to rekindle the love they lost sight of during the war, and it resulted in what appeared to be a pretty blissful relationship from where I was sitting. Come to think of it, if it weren't for the books, that brief mention might have gone right over my head and I would've assumed this trip was a happy second honeymoon-reunion of sorts. Novel Claire and Frank Randall are not so lovey-dovey. In fact, having been apart for years, they barely know each other and only really connect through sex. We got the intimacy part — not so much the distance.
So why change it? Well, no successful TV series is ever really complete without a love triangle. In this case, no love triangle could be better than one that will spur up debates between #TeamFrank and #TeamJamie. The show did right to make us root for Frank and Claire before she falls through the stones. Even more-so when they flashed-forward to Frank realizing Claire is missing. Though this flash-forward to Frank panicking about Claire's disappearance didn't happen in the book, it was perfect for the series because it proves that he still exists in more than just Claire's narrative and is actively searching for her.
Her Mistaking Hamish's Identity Out Loud
In Episode 2, we saw Claire enjoying the sidelines at Castle Leoch's courtyard, watching Dougal Mackenzie play with the young Hamish. In the book, Claire's questioning of Hamish's parentage happens in her head, but later in the episode she embarrasses herself by publicly mistaking him for Dougal's son. What she did, in making her thoughts public, was announce that she assumed Colum Mackenzie was unable to have children. Bad news, Claire, especially for a Laird in 1743. In some ways, this scene wasn't really necessary but I thought the show's decision to show us rather than tell us in another voiceover was a good one. For one thing, it made an excuse for Claire to realize she needs to be more careful around the Mackenzies, but it also heightened the Mackenzies' distrust of Claire in a way that made us cringe in our seats for her.
Her First "Civilized" Meeting With Garrison Commander Jack Randall
Best episode so far, hands down. If you watch the extras after Outlander like you should be, you'd know that this past weekend's episode was really only a few short pages-worth in the book. Book Jack is equally as horrible, especially to Claire, but to dedicate a full hour to displaying his horror rather than a simple scene was exactly the change Starz needed to make. Beside the fact that it introduced us to the show's primary villain in full-force, it set up several story lines that will make us anti-Randall from here on out. These included the wedding to Jamie, yes, but, more importantly, Claire's opinion of the family she originally married into. How can she look at Black Jack Randall and not see her husband? Because we certainly do — it's the same actor for Christmas' sake.
For a while there, he seemed almost genuine enough that it could have sparked potential attraction between them. Almost. The series needed this thought as much as it needs the one that will potentially turn Claire against her husband. The fact that Captain Jack Randall's villainous blood runs through Frank's. The violent scene between Jack and Claire also opened doors for her relationship with the Mackenzies. Dougal risked his own life to rescue her and any attraction she thought he had was trumped when he offered her Jamie's hand instead. Will it excuse his trying to rape Claire earlier in the season? Hell no, but the episode certainly helped his character more than it did Jack's. As far as alterations being made for Claire page to screen go, I say: Godspeed, Starz!