'Freak Show' Promises the Most Terrifying Clown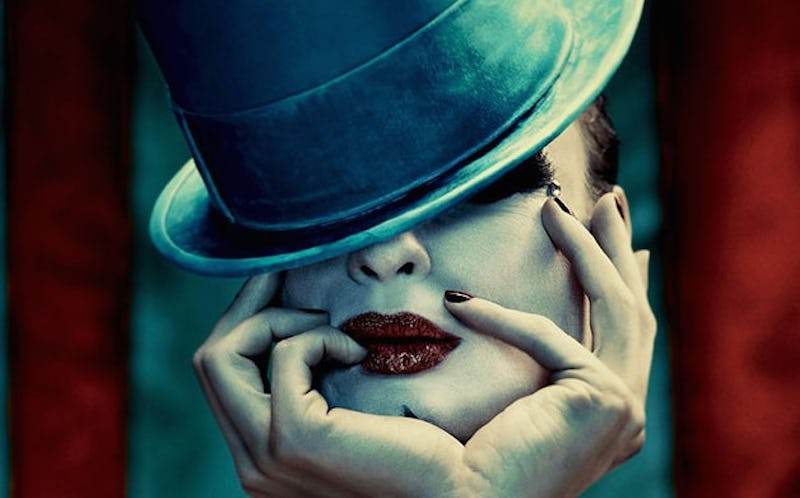 I've been convinced that this season of American Horror Story would be one of the show's creepiest for a while — and that recently released poster of the foot contorted like the Louboutin from hell didn't help much — but, gotta say, this new clip makes me think that this season is going to be absolutely terrifying, if only because EVIL CLOWNS. FX has released a new teaser for American Horror Story: Freak Show , and, much like a past one involving a scary smiling clown released earlier this month, it involves a clown that looks reason to commit mass murder while nonchalantly eating a chocolate bar, or something.
According to Buzzfeed, who visited the set of Freak Show ahead of its Oct. 8 premiere, this promo is actually reminiscent of an actually character who will appear on the show this season portrayed by John Carroll Lynch: Twisty the Clown. In their words..."When Twisty the Clown (played by John Carroll Lynch) makes his Freak Show debut, pop culture's prevailing nightmare-inducing clown, Pennywise (played by Tim Curry in Stephen King's It), will soon be forgotten."
That sounds like a big NO THANK YOU.
Creator Ryan Murphy's rundown of Twisty is even worse:
"We said in the writer's room that if we were going to do clowns, we were going to create the most terrifying clown of all time," Murphy told BuzzFeed News. "That was our goal when we were writing him, but I'm worried about people being too afraid of our clown. It's heart-stopping what he does. I'm worried. I'm worried that people are going to have cardiac arrests… The clown's intro in the first episode is … even I was terrified of it. It's brutal. Two crew members told me they have had nightmares about this clown since we started shooting and they're not even scared of clowns. I think he's pretty extraordinary because, when you see why he's a clown and why he's wearing the mask … just you wait."
That in mind...this teaser is just that much more scary. Suddenly, feet shaped like heels doesn't seem so bad at all.
Image: FX